Press release
13/03/2015 07:00 CET
Skanska has signed a contract to deliver the New Papworth Hospital in Cambridge, which will provide patients, staff and the local community with a world-class healthcare facility.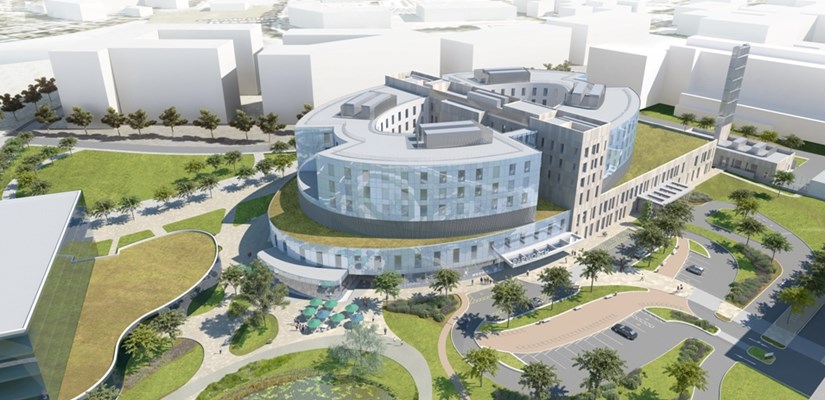 Papworth Hospital, which will cover a 40,000m2 area when complete, will provide 300 beds, seven operating theatres and five catheterisation labs.
The latest building information modelling (BIM) technology will be used in the design phase to maximise energy efficiency and ensure the hospital offers long-term flexibility. The construction techniques used will allow reconfiguration of the hospital over time, making it fit for purpose both on delivery and for the future. The technology is also being used to engage clinicians in the construction process.
Skanska, with healthcare delivery expertise spread across its global network of projects, will provide Cambridgeshire with a hospital that is an exemplar of the facilities available to NHS patients and clinicians.
Sustainability is at the heart of the new hospital, which will specialise in cardiothoracic care. Papworth is designed to achieve an EPC 'B' energy rating, the first hospital in the UK to do so. Measures to reduce carbon emissions will include a large-scale ground-source heat pump system.
The tranquil, landscaped setting of the new hospital will capture the essence of the existing Papworth hospital, with its surrounding parkland, pond and gentle slopes. As well as providing a healing environment for patients, it will be a pleasant place for visitors and staff members.
Skanska will also collaborate with the Papworth Hospital NHS Foundation Trust to develop a green travel plan for site, which will aim to reduce reliance on car travel and encourage the use of public transport. Secure cycle racks, changing facilities and showers will be provided for employees.
The public-private partnership contract includes design, build, finance and hard and soft facilities management, with construction to begin immediately and completion due in 2018.
The construction contract is worth around £140 million. Hard facilities management services at the hospital will also be provided by Skanska for a 30-year post-completion period.
Skanska's share of the equity investment will be 50 per cent and Equitix will commit the remaining 50 per cent.
Terry Elphick, Managing Director, Skanska UK, said: "We will be consulting with all stakeholders throughout construction, an approach we like to take on our healthcare projects around the world, for example Barts and The Royal London, Derby City General Hospital, UCH Macmillan Cancer Centre, the Proton Therapeutical Centre Teaching Hospital in the Czech Republic and Le Bonheur Children's Hospital in the USA."
Richard Spencer, Project Director at Skanska, said: "The stunning architecture of the new hospital will showcase a confident civic presence that will help to attract the very best staff and clinicians, and will make Papworth a treatment centre of choice, both within the UK and internationally."
Allison Newell, Director of Healthcare Strategy at Skanska, commented: "The successful delivery and subsequent estate management of the New Papworth Hospital will provide patients and staff with a leading-edge facility for many years. We look forward to building on our productive and collaborative approach with the hospital trust, so as to best serve those using and working at this impressive new facility."