Press release
14/04/2015 09:00 CET
Volunteers from Skanska's highways maintenance team have scoured roadsides near Oxford to help vulnerable amphibians reach their breeding grounds safely.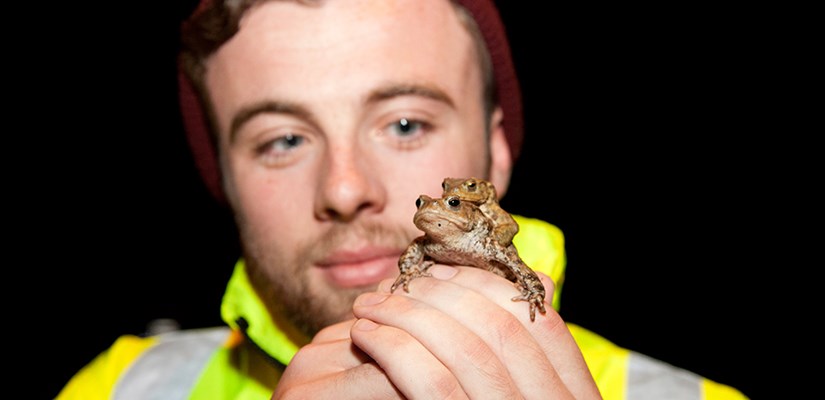 Working alongside Oxfordshire County Council and a local toad patrol, the seven-strong crew spent two evenings in Bagley Wood, gathering up the small creatures and transporting them across roads.
In addition, the team donated protective clothing and road warning signs to create a controlled and safe environment for volunteers who work to protect the species in this potentially hazardous environment.
Throughout spring, common toads migrate to their ancestral breeding ponds, some travelling up to two kilometres. Almost always following the same route, they continue their journey regardless of what stands in the way, rendering busy roads a risk to entire populations.
Richard Lovewell, responsible for Skanska's highways work in Oxfordshire, said:
"Once the toad patrol was brought to our attention, we were more than happy to help. It was the perfect way to support a local volunteer group and interesting to learn about ancient toad migration routes.
"The volunteers travel down 400 metres of verge, adjacent to fast-moving traffic, often in the darkness. The protective clothing they previously used was below the standards I'd allow for my team at Skanska, and so I am proud we were able to make a difference to their safety. We have also volunteered to return next year for a further review of the signage and risk assessments."
An estimated 20 tonnes of toads are killed each year on UK roads, including over 8,000 at manned crossings in 2014 alone.
Bagley Wood's toad patrol is coordinated through Toads on Roads, a twenty year-old nationwide scheme that helped protect almost 77,000 toads across 140 sites in 2014. Over 300 toads have been rescued in Bagley Wood so far this year.
Toads on Roads patrol coordinator Lisa Temple said:
"Patrolling our toad migration route is hazardous for volunteers and we are very grateful to Skanska and Oxfordshire County Council for their advice and kind donation of high visibility clothing.
"The additional toad signs have made us a far more visible presence to road users and we have already noticed drivers slowing down as they approach our patrol. We were impressed with the Skanska team's genuine commitment to health and safety matters."