Press release
16/04/2015 17:00 CET
Treviso, in northern Italy, the city which makes Pinarello racing bikes, created tiramisu and is the birth place of Prosecco, is also producing the dramatic fins for Project Development's latest London scheme – The Monument Building.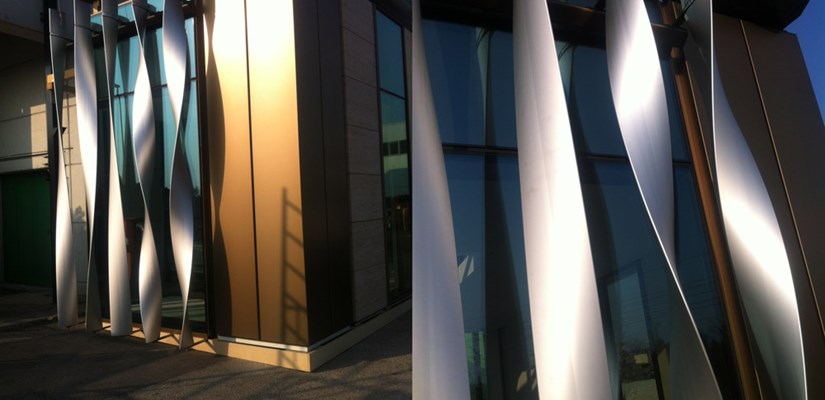 James Willats, Development Manager from Skanska's Project Development team, is overseeing the City of London project and took the opportunity to visit the supplier to check the construction quality and find out more about the twisting anodised aluminium fins, designed by Make architects.
The feature fins will allow building occupiers to enjoy maximum levels of natural light as the devices reflect it into the building, while also providing sufficient shading to reduce thermal heat gain.
James said: "It was interesting to visit Treviso and see how the supplier is implementing the Make design to create our fins. Seeing the prototypes really brings the project to life and they have certainly inspired me with their creativity and ability to interpret the design.
"Occupiers of The Monument Building will really benefit from these subtle additions to the structure, inspired by the Monument and the fluting on its stone column."
The rippling veil of metal ribbons will be suspended from the ninth-floor terrace and extend down to the second floor. The twisted, anodised aluminium fins will cover the south face of the building's floor-to-ceiling glass panels, to add a sense of depth and visual interest to the building.
The southern facing façade, of 69 fins, will see six different twist types arranged in a repeating rhythmic pattern. Each fin will be twisted 360 degrees, alternately clockwise and anti-clockwise, extending vertically across one, two or three storeys.
The Monument Building will offer 94,000sqft of high-quality office and retail accommodation in the City of London. It is scheduled for completion in spring 2016. For more information visit: www.themonumentbuilding.com