Press release
01/06/2015 08:00 CET
Skanska has recently become a signatory of the Code of Conduct developed by the Transparense project, demonstrating its commitment to best practice. Transparense is a pan-European initiative funded by the Intelligent Energy Europe Programme of the European Commission and aims at creating a more transparent and efficient market for Energy Performance Contracting (EPC).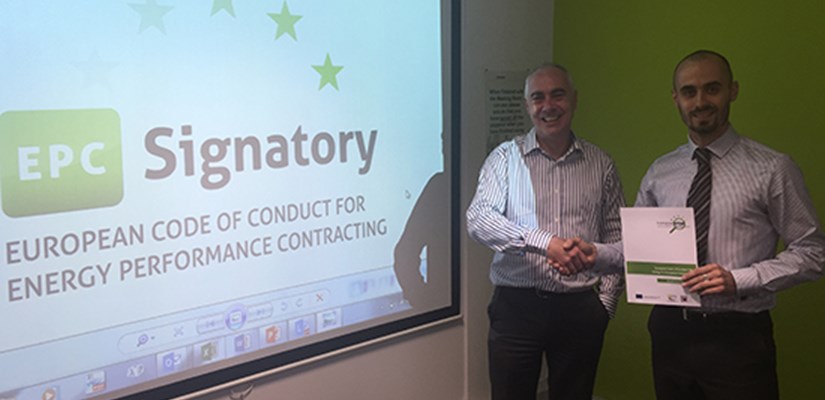 Skanska is a leading provider of EPCs in the UK, and across the globe, delivering projects for clients in sectors such as healthcare, central and local Government and education. They join the Energy Services and Technology Association, Energy Managers Association, British Gas Business, COFELY, Breathe, ENERG-G, BAM FM and over 70 others throughout Europe who have signed the Code of Conduct since its launch in September 2014. The Code was launched to support high-quality EPC energy services and transparency on European energy service markets. It has been developed within the Intelligent Energy Europe project Transparense in cooperation with inter alia European ESCO associations, EPC providers and clients; and defines the basic values and principles that are considered fundamental for the successful preparation and implementation of EPC projects.
An initial survey within the Transparense project showed that there was a lack of trust within EPC markets and that many potential clients had poor knowledge and understanding of what to expect from their suppliers: "With long contractual terms in EPC typically between 5-15 years it is imperative to form a strong partnership between supplier and consumer built on trust and transparency. The Code of Conduct provides a framework of values and principles that allow the parties to achieve this," said Olivier Garnier from EEVS, UK lead organisation on the Transparense project.
By becoming signatories, EPC providers such as Skanska undertake to conduct EPCs in compliance with the EPC Code and position themselves as leading providers of best practice EPC in the UK. The EPC Code is a voluntary commitment and is not legally binding. Richard Byers, Head of Green Business at Skanska, said: "This Code of Conduct sets out the values of a strong partnership for EPC; efficiency, transparency and professionalism, which form the bedrock of all of our contracts and as a result we are delighted to endorse it.
"At Skanska we believe strongly that part of our role is to help organisations to reduce their energy consumption, improve their sustainability credentials and help them to minimise their costs. We work with clients to understand their energy needs and provide solutions through robust EPCs that go beyond the technological requirements, to include behavioural change programmes for employees and service users too.
"A better-informed marketplace will drive higher quality service provision and attract greater levels of investment so we encourage other providers to support this exciting development in Energy Performance Contracting."
More information on the European Code of Conduct for Energy Performance Contracting and how to become a UK signatory is available on the Transparense website:
http://www.transparense.eu/uk/uk-codes-of-conduct/uk-eu-code-of-conduct
Olivier Garnier, EEVS Insight Ltd,

More information on Skanska's EPC services is available on the Skanska website: http://www.skanska.co.uk/Services/Green-business/
Transparense is funded by the Intelligent Energy Europe Programme of the European Commission and aims at supporting the development of a trustworthy EPC market. It brings together 20 European partners and has a budget of million 2.1 million €. Main target groups are existing and potential EPC providers and their clients.
EEVS Insight Ltd (Energy Efficiency Verification Specialists) is the UK's leading provider of IPMVP-based performance analysis and verification services for any sustainability project, product, service or investment. EEVS is the organisation representing the UK for the Transparense Project and supports the application of the EPC Code of Conduct. Find out more at www.eevs.co.uk