Press release
19/05/2015 09:00 CET
Skanska sponsored and presented an award at an event which celebrated the extraordinary achievements of members of the armed forces.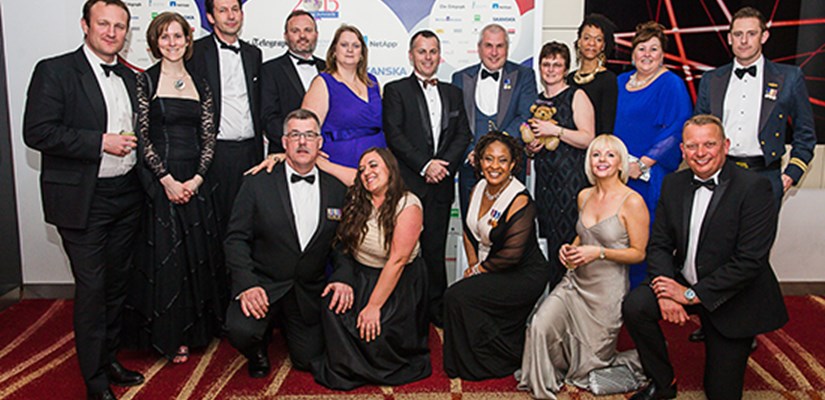 As part of Skanska's commitment to supporting and recruiting people from the armed forces, Skanska sponsored this year's Soldiering on Awards. The awards celebrate the achievements of ordinary people who have faced extraordinary circumstances, hardships and challenges during their military career.
As a main sponsor, Executive Vice President Greg Craig presented the Innovation Award on behalf of Skanska to Steve McCulley, an ambassador of the Help for Hero's Charity.
Greg said: "It was a very humbling experience to hear some of the stories the nominees had overcome and be part of their special night.
"Skanska is actively recruiting ex-military and armed forces people, so it is important for Skanska to support such an event. People with a military background have the skills and values that we're looking for."
The awards were presented and celebrated at an annual gala dinner at the Park Plaza Westminster in London last month.
The 'Eight Voices One Story' exhibition will continue its tour over the coming months. It consists of eight short films that acknowledge the courageous journeys of the award winners and raises public awareness of the armed forces charities who nominated them.
Contact Israil Bryan if you would like to support the resourcing team at one of these events (dates and venues to be confirmed).
Steve's story
Nominated by Help for Heroes, Steve, who is an ambassador for the charity, spent nearly three weeks in a coma, having sustained serious injuries from an improvised explosive device while on his second tour of duty in Afghanistan with the Royal Marines.
He suffered multiple injuries, including shrapnel being embedded in his right lung which has left him with only 60% lung function. He also suffered a fractured femur, cartilage damage to his right knee, 50% reduction in grip strength of his right hand and arthritis in his right hip.
A passionate cycling enthusiast, Steve founded LIOS Bikes; a personalised bike fitting service which allows injured personnel to find recovery through cycling.
With support from organisations like Help for Heroes, Heropreneurs and the Royal Marines Charitable Trust Fund, his innovative business has allowed him to channel his energy and passion into cycling. It has also allowed other wounded and injured personnel to have access to world class bike fitting at no cost, permitting them to achieve a new lease of life in a sport and improve their performance.
One LIOS Bikes beneficiary had this to say about Steve's service:
"Suffering with lower back and neck pain, plus a niggle in the right knee during longer rides, Steve offered his services for the Help for Heroes Sports Recovery riders and I took the opportunity. Faced with a number of challenges as my prosthetic limits my range of movement, Steve got me into the best position possible. I am now able to ride for much longer. Thanks Steve!"