Press release
02/07/2015 11:30 CET
Tonight's episode includes Martin Tunnicliffe and John Mead, who are part of the facilities management team at the Royal Derby Hospital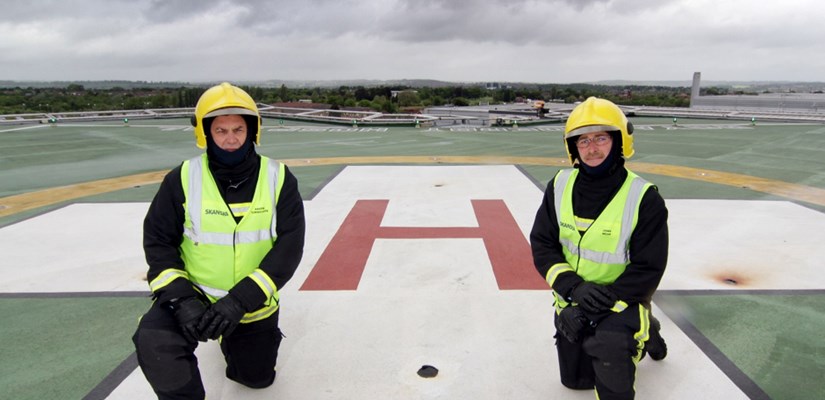 Filmed over a six week period at the end of last year, the programme will show the Skanska operatives doing day-to-day general maintenance duties as well as responding to the arrival of helicopter air ambulances airlifting patients to the hospital.
Commenting on when the Derby Teaching Hospitals trust asked for volunteers to be involved in the documentary, Martin said: "We thought about it and saw that if we did, people watching might see that the hospital is not just about doctors and nurses. No matter if you're a chief executive or a cleaner, you're as important as each other in a hospital."
When asked about working with the camera and film crew, John said: "It was awkward at first. They did a lot of work with drones and captured a lot of footage of the helicopter coming in, so we were involved in all that. But they were equally interested in us fixing a toilet, too.
Martin added: "It was very enjoyable. By the end we had become quite attached to the crew. They had spent so much time with us."
Following a positive reaction from viewers to the first episode, Martin thinks there will be a lot of interest from people who do not realise that jobs like theirs exist at the hospital. He said: "I think it will open people's eyes and give people a really informed view of what it takes to run a modern hospital."
The four part documentary, which started last week, focuses on every part of the Royal Derby Hospital, where a million patients are treated each year and lives are saved every day of the week. As well as the doctors and nurses, each episode will feature those people working in support services that help keep the hospital running.
Episode two of Superhospital airs tonight, Thursday 2 July, on ITV1 from 9:00pm to 10:00pm
Links