Press release
04/08/2015 08:00 CET
Skanska's conversion of a disused office building into a new school bristling with green features has been handed over by Bristol's Mayor George Ferguson.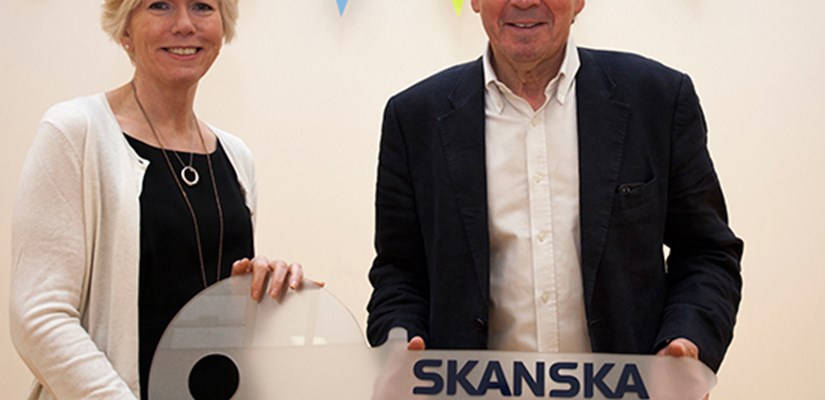 Acting on behalf of Skanska, Bristol City Council (BCC) and Bristol's Local Education Partnership (LEP), the Mayor handed over the building to Ashton Gate Primary School in a recent ceremony.
Skanska spent nine months transforming Imperial Tobacco's former offices into a new site for the school, providing 420 new places across 3,000 sqm. of space.
The Mayor said, "This new Ashton Gate site is a great example of how an old industrial building can be converted for a totally new purpose."
He later tweeted:
Thanks to all @SkanskaUKplc @BristolCouncil @BristolLEP for a great job done - ensuring #Bristol's #schools meet growing population need.
Bristol's Project Director John Brennan added: "This is a highly impressive project which brings new life to this building while delivering much-needed school places to this area of Bristol."
The building is equipped with an energy-efficient LED lighting system with movement sensors in every room to minimise waste. A solar panel on the roof generates electricity for the school and a display in reception shows its output. Over 100 energy-intensive air conditioning units were removed from the old building and replaced with a natural ventilation system.
Ashton Gate is just the latest example of Skanska's Bristol team re-imagining existing buildings to avoid the need for greenfield construction. They converted a former police station into a new site for one school, while at another they placed seven new classrooms on the roof to save the playing fields.
Ashton Gate is the second Bristol primary school to be handed over by Skanska in time for the new school year. Six further schools will be completed by September, creating over 3,000 new school places across the city and helping Bristol keep up with rising demand.
Skanska, in partnership with Bristol City Council and Bristol LEP, has built or refurbished over 40 schools in the last ten years. Over 7,000 new primary places have been delivered and over 13,600 secondary school children now have an improved learning environment.