Press release
08/09/2015 10:30 CET
Skanska, has 'topped out' at The Monument Building, its 94,000sqft (8,732m2) office-led development scheme in London EC3.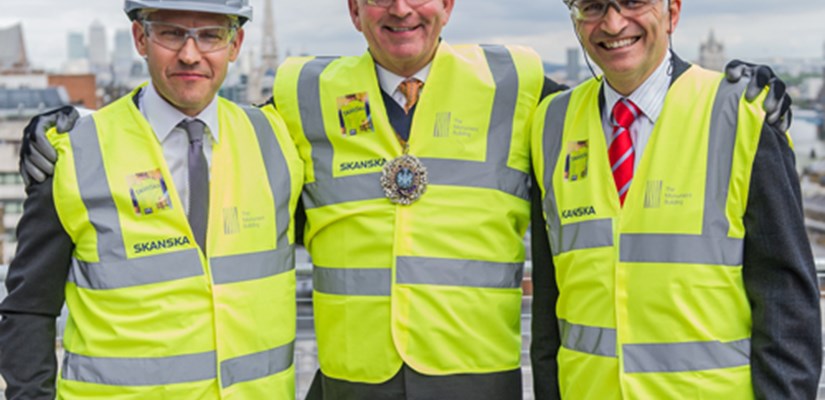 In a roof-top ceremony held today (7th September 2015), the Skanska team was joined by The Lord Mayor of the City of London, Alderman Alan Yarrow, to toast this development milestone.
The new structure, once complete, will replace what was 11-15 Monument Street, 46 Fish Street Hill and 1-2 Pudding Hill with around 88,000sqft (8,175m2) of Grade A office space over nine floors, with floor plates offering approximately 10,000sqft (929m2). The scheme also boasts four feature terraces with spectacular views to both the north and south, plus 4,000sqft (371m2) of ground-floor retail accommodation, a large reception area, state-of-the-art cycle storage and first-class shower facilities.
Andreas Lindelöf, Skanska's Managing Director of Development – UK, said: "When we invested in this site, there wasn't much positive talk about the London development market. Today, our belief in the London market has paid off, with demand for office space in the city at its highest levels for years.
"The story of this development is one of partnership. Together with The Fishmongers' Company – one of the 12 great livery companies of the City of London – and MAKE architects, we are realising our vision, and creating a top-class building, bringing future thinking to this historic location."
Mike Putnam, Chief Executive and President of Skanska UK, commented: "The Monument Building is our first commercial development in London under our Workplaces by Skanska banner. As funder, developer and contractor, we are delighted to celebrate this important development milestone.
"With an emphasis on place-making, sustainability, tenant profitability and creating the right working environment, The Monument Building is designed to be sympathetic to its historic surroundings and a modern development where City companies want to be."
The Monument Building is designed to achieve a BREEAM 'Excellent' rating. Features include LED lighting, a green roof and photovoltaic panels.
Skanska purchased the site in 2012. The scheme, designed by architect Ken Shuttleworth's MAKE, showcasing a statement façade made from iodised aluminium fins that will blanket the southern side of the building, was granted planning consent in April 2013. Completion is scheduled for May 2016.
Savills is letting agent for the office space and Nash Bond for the retail accommodation.