Press release
24/09/2015 11:00 CET
Skanska is part of a successful project to develop 'flying factories' – a system of near-site manufacture – leading to cost, environmental and safety benefits, which could help to modernise the construction sector.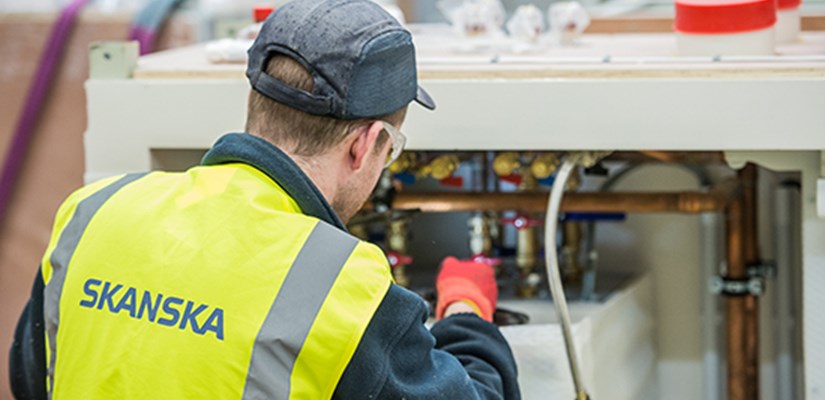 Funded by a research grant from government innovation agency Innovate UK, Skanska's partners in the project are: The Building Research Establishment; ModCell; Lean consultants Exelin and the University of Reading. The aim is to review projects before they start on site to find opportunities to implement the flying factories approach where possible, to increase quality, safety and sustainability.
Flying factories allow structures to be built in controlled conditions, removing the potential effects of bad weather and other on-site hazards – speeding up the assembly of the building on site, while delivering a safer working environment.
The concept was used to assemble wall panels for Glenfrome School in Bristol, enabling a building extension to be completed in just six weeks during the summer holiday. It was then successfully applied to the SRW engineering services project for the Battersea Power Station Development phase one, where 550 'utility cupboards' have been created for residential use. Significant cost and time savings have also been recorded for both projects.
Sam Stacey, Head of Innovation at Skanska UK, said: "This is a tremendous example of smarter working in action. It demonstrates the power of creative thinking combined with a collaborative approach.
"Through collaborating with experts from a range of industries, we can bring to construction improved levels of quality and cost reduction such as those experienced in industries such as automotive and aeronautics."
The purpose of flying factories is to deliver the benefits of off-site factory assembly, while overcoming the barriers of capital investment and high transport costs. Assembly of complex construction components is carried out in short-term rented spaces close to site.
To develop the technique and secure funding, Skanska's Innovation Centre put together a research consortium of external organisations. Inspiration was taken from the offsite fabrication of May Park School in Bristol.
For further information on this research, and guidance on whether this approach can be applied on your project, please visit the dedicated webpage at: