Press release
13/10/2015 09:00 CET
Alison Moriarty, Fleet Road Risk & Compliance Manager at Skanska UK, has been named the Road Risk Manager of the Year at the Brake 2015 Fleet Safety Awards.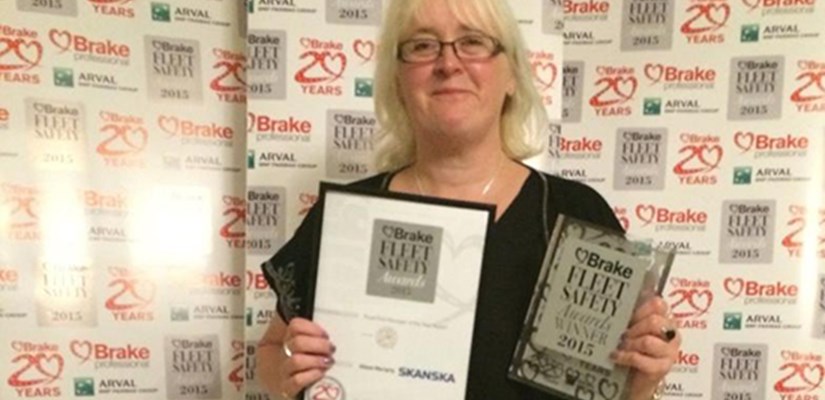 The award recognises Alison's positive impact on road safety both at Skanska and in the community.
At Skanska, Alison has overseen the development, implementation and management of strategies and policies that ensures employee's driving behaviour reflects the organisation's industry leading stance on health and safety. She was instrumental in establishing the Road Risk Steering Group, which is raising the profile of driving for work across the business.
Alison said: "Skanska approaches driving and road risk with the same attitude that is applied to all other high risk construction activities – our employees should enjoy an injury free environment on site, in the office and on our roads. We work with all drivers – in our business, in our supply chain and in the community – to influence their driving behaviour to create safer road environments."
Alison's passion for road safety is well known in industry and the community. She volunteers with a number of road safety bodies in order to enact change at an industry level, and assists small organisations to develop and implement relevant road safety policies. She also delivers safety awareness sessions for schools and local authorities to help equip people with the knowledge and skills required to improve their driving behaviour.
Dale Turner, Director of Procurement and Supply Chain, said: "The Fleet Safety Awards recognise the achievements of those working to reduce the number of road crashes involving at-work drivers, which is an important part of our Injury Free Environment journey. Alison's recognition at this years' event is fantastic news. The win acknowledges the hard work that Alison and all of the Fleet team have put in over the past few years."