Press release
07/03/2016 07:00 CET
Construction at Skanska's The Monument Building, in the heart of the City of London, has reached the final stages with the fitting of one its most striking architectural features.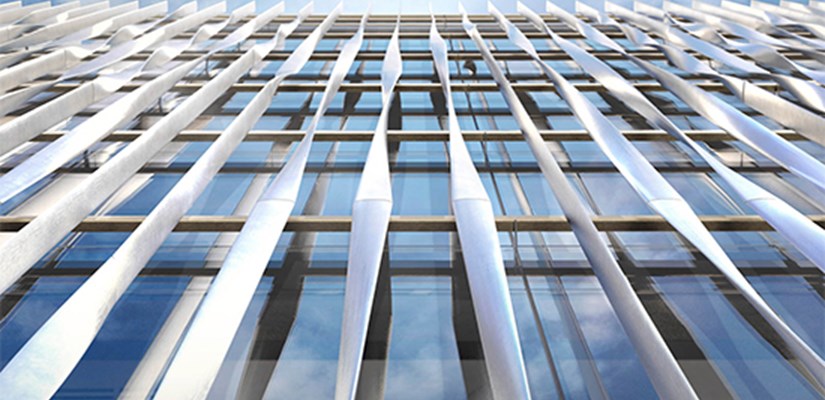 The main façade of aluminium fins provide a distinctive 'curtain' of rhythmic, repeating twists hanging down from the ninth to the second floor, delivering a stunning, yet simple and restrained feature to the building which is located next to the historic Monument to the Great Fire of London. They have been specially designed and placed to maximise the amount of natural light into the building, while at the same time providing shade and reducing heat gain.
Ken Shuttleworth of Make, the award winning architect of The Monument Building, comments: "With Skanska, we have designed a building that not only meets its sustainable criteria, but also offers striking features while being respectful of this historic location.
"As well as the bespoke fins, the exterior of the remainder of the building, with a mix of alternating Jura stone and glazed panels, has also been carefully considered to respect its surroundings."
Andreas Lindelöf, Managing Director, Development, says: "With an emphasis on place-making, sustainability, tenant profitability and creating the right working environment, The Monument Building has been developed as a place where City companies want to be. The wow factor that we wanted to create is now being slowly revealed as we countdown to completion."
The Monument Building, comprising 94,000sqft (8,733sqm) of grade A office space and two ground floor retail units, is Skanska's first 'Workplaces by Skanska' development in London. The scheme, which is due to complete in May 2016, boasts four feature terraces with spectacular views to both the north and south, a large reception area, state-of-the-art cycle storage and first-class shower facilities.
The Monument Building is designed to achieve a BREEAM 'Excellent' rating, with additional features including LED lighting, a green roof, photovoltaic panels and an intelligent lighting control system.
Savills is letting agent for the office space and Nash Bond for the retail accommodation.