Press release
25/05/2016 08:00 CET
Skanska and the Defence Infrastructure Organisation (DIO) celebrated the Scandinavian tradition of topping out yesterday (25 May) at Worthy Down's new College Building for the Ministry of Defence (MOD) in Hampshire.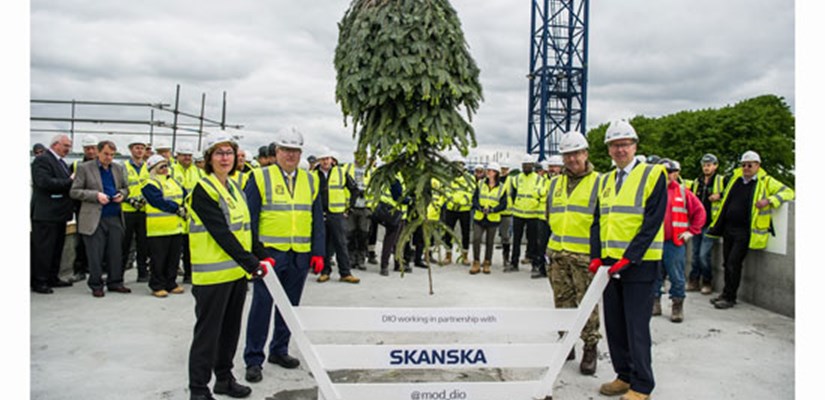 The new building, which has reached its highest point in construction terms, will be home to the Defence College of Logistics, Policing and Administration. It will cover areas including catering, supply, transport and military human resources. The College will also enable the MOD to train personnel more efficiently and effectively so that they can provide the best possible support for military operations.
The College is one of several buildings currently under construction on the site, with others including recreational facilities and accommodation, while the Unit also remains fully operational throughout the build period.
On completion, the developed site will also provide high-quality accommodation in a series of 'villages' – one for junior ranks, one for officers and one for senior non-commissioned officers (SNCO). Trainees will also enjoy sports and recreation facilities, bars, officers' and SNCO messes, as well as other supporting amenities. There will also be a Royal Logistics Corps museum.
Brigadier Steve Shirley will be in charge of the College upon opening. A member of the topping out team, he said: "I speak for the whole College when I say that we are excited, enthused and very much looking forward to delivery here at Worthy Down. The College will provide training for trainees from all of the Armed Forces. I am very proud to be leading our approach to meeting the challenge of sharing best practices across the Military, in what will be modern, multi-purpose facilities at Worthy Down."
Leo O'Shea, Chief Operating Officer, DIO, commented: "DIO supports service personnel by providing a fit-for-purpose estate and accommodation so we're happy to be undertaking this project with Skanska. The new world-class buildings, such as the College, being delivered by the DIO for the MOD, will replace outdated buildings and provide our Services personnel with opportunities to learn from each other in facilities fit for the 21st Century."
Skanska Managing Director, Terry Elphick, said: "We are delivering this large project on time and on budget. Our collaboration with our customer, the DIO, and the MOD as end customer, is positive and productive. We are also working with local suppliers and employing local people to benefit the community and local economy."
The topping out event was celebrated by a final ceremonial laying of cement, followed by a traditional Scandinavian 'flying of the fir' – when a spruce tree was flown over the building by tower crane.