Press release
31/05/2016 11:00 CET
Skanska has successfully completed a 10-year modernisation project to redevelop Britain's oldest hospital, St Bartholomew's in central London, for Barts Health NHS Trust.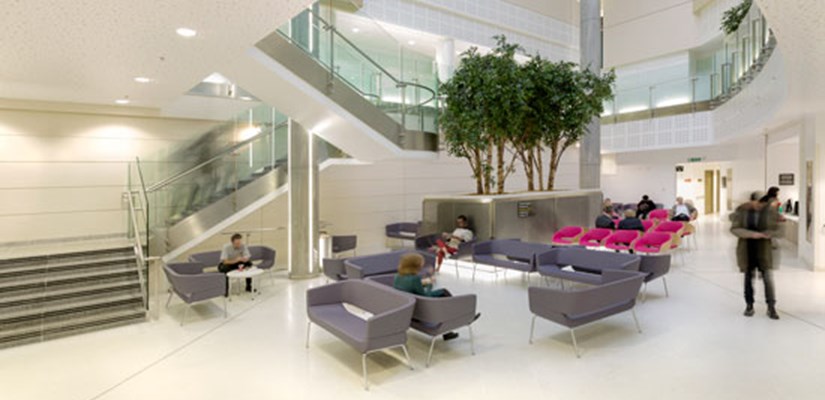 The final works included a new site-wide energy centre, car park, clinical bin store, residential staff quarters shell extension and a vacuum insulated evaporator (providing the hospital's oxygen supply).
Within the energy centre a fuel-saving combined cooling and heating power (CCHP) gas engine called 'Pink Power' has also been installed. The CCHP will significantly reduce on site carbon emissions and help the Trust to lower its energy costs, enabling more money to be spent on patient treatment instead. The engine's pink makeover is designed to draw attention and showcase the machine's energy and money-saving potential.
The 10-year partnership also saw the global construction contractor and developer create The Royal London Hospital in Whitechapel, east London, which opened in 201. Skanska remains on site at both hospitals, providing facilities management services which maintain the new and existing resources for staff and patients.
Terry Elphick, Skanska Managing Director, said: "The completion of this 10-year construction project is a very proud moment for all of us, but particularly for the construction team who maintained excellent ongoing collaborative relationships with Capital Hospitals, the Barts Health NHS Trust team and our subcontractors. Reaching final completion on time is a major achievement and we have delivered healthcare facilities fit for the 21st Century."
The Skanska team remains on site and is now working to deliver the Barts Heart Centre, a specialist cancer and cardiac centre with 700,000sqft of new patient accommodation, consolidating all campus services.
As Europe's largest specialised cardiovascular facility, the new hospital provides comprehensive facilities including 10 operating theatres, 10 cardiac catheter laboratories, 165 cardiac beds, 58 critical care beds and 40 coronary care beds, 31 respiratory and 81 oncology beds plus extensive day care facilities. The restored seven-storey King George V building also reflects the site's rich history and is complemented by the neighbouring square, designed by James Gibbs in the 1730s, which has also been restored to its former glory.
Within St Bartholomew's the Trust was keen to adopt a 'one-stop-shop' approach to healthcare provision. This redevelopment, designed by HOK, provided an opportunity to deliver efficient new patient pathways that create a 'Continuum of Care' where the facilities now minimise travel distances, making patient transfers quicker between departments, while also enhancing patient privacy.
Situated on a site of historical interest, due to Roman artefacts, including a hobnailed boot, being found by the Museum of London Archaeology team, St Bartholomew's Hospital was originally founded in 1123 and re-founded by Henry VIII in 1546, with an agreement granting the hospital to the City of London. The original hospital complex contains multiple listed structures including the Grade I listed Gatehouse, Grade I listed North, East and West Wings, the Grade II Medical School and the Grade II* listed Church of St Bartholomew the Less. Skanska integrated these historic structures into a sympathetic new development, using Portland stone to complement the original facades.