Press release
24/06/2016 11:05 CET
Skanska has helped Open Doors 2016 to become the initiative's most successful campaign to date, by welcoming over 200 visitors to nine sites, enabling people to find out more about the construction industry.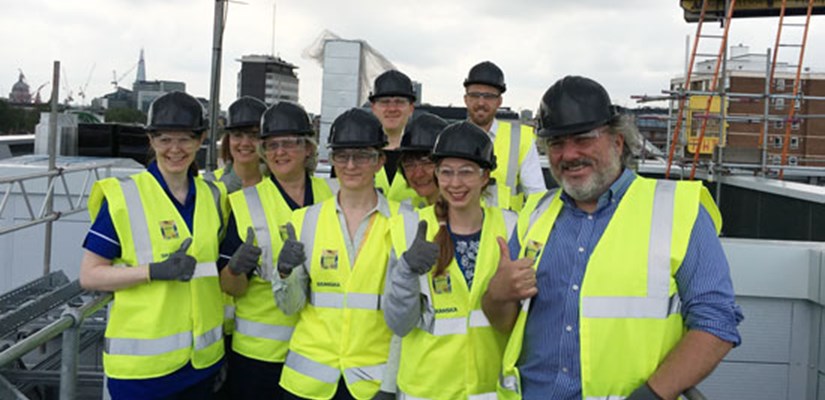 Members of the public, including students, school leavers, local residents, trade body representatives and sector journalists, plus NHS Trust staff and board members, visited Skanska projects last week through the Open Doors 2016 scheme.
Those keen to pursue a career in the industry, along with those curious to find out more about life behind the hoardings, took part at Skanska projects across the UK.
The Skanska projects that opened their doors were:
New Papworth Hospital, Cambridge
Great Ormond Street Hospital (GOSH), London
Steiner Academy, Bristol
St Bartholomew's Hospital, London
Bermondsey Dive Under, London
Cambridge Highways
North Somerset Highways Maintenance
North West Cambridge Development
Copyright House, London
As part of this year's activities, which ran from Monday 13-Saturday 18 June, guests met site staff and saw construction works in action. The campaign also took place to encourage people to find out more about career opportunities available in the sector.
Emma Bentley from BuildUK, who helped to co-ordinate Open Doors, visited the New Papworth Hospital site. She said: "The experience was very well put together and delivered enthusiastically by the site team. It was great to meet so many visitors who were interested in finding out more about the industry on a local project. Hopefully we have inspired many of them to become the workforce of the future".
Feedback from around the participating Skanska sites included:
"What an interesting start to the day. Many thanks to you for the tour. I loved it." – Visitor at Steiner Academy, Bristol
"Just to say how well the event was organised. All the people we encountered on the site were welcoming and friendly. An amazing day – I liked everything about it. Fascinating, thank you!" – Visitor at Bermondsey Dive Under, London
"I really enjoyed the tour of the work being carried out. Everyone seems to be working really hard and it was so interesting to be able to see everything that's going on 'behind the scenes' – Visitor at GOSH.
Paul Chandler, Executive Vice President for Skanska, said: "It was great to see a record number of people visiting our projects and engaging with our construction teams through Open Doors 2016.
"We're delighted that people find our work interesting and we're very happy to support the Open Doors initiative, which is enhancing the image of the construction industry."
Open Doors 2016 was being delivered by Build UK and the Construction Industry Training Board.
To find out more visit the Open Doors 2016 website.