Press release
15/07/2016 14:00 CET
Skanska has been recognised for its approach to tackling the skills shortage in construction, winning the Judges' Supreme Award and Diversity Champion of the Year Award at the Construction News awards 2016.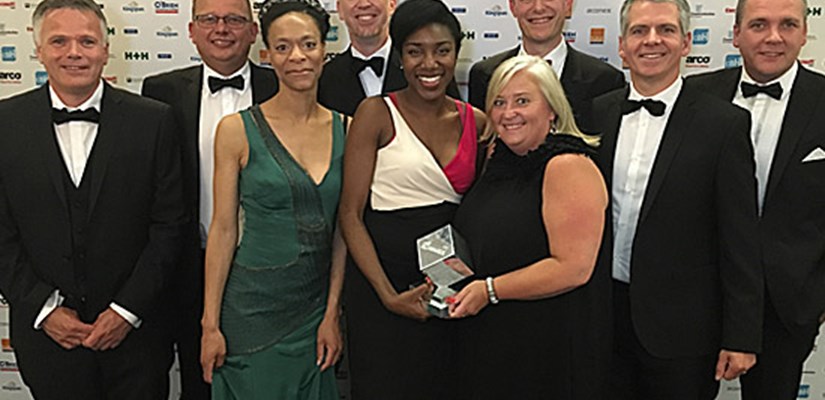 In being presented with the Judges' Supreme Award, Skanska was recognised for its approach to tackling the skills shortage – one of the most significant challenges in construction today.
The judges' commented: 'Skanska is currently setting a new standard for the industry on equality, diversity and inclusion. If all were to follow suit it could transform the sector for the better forever.'
The judges' were impressed by Skanska's approach to thinking differently, acknowledging how the company has 'embraced diversity as a business imperative'. They recognised how Skanska has moved the agenda forward, embedding a diverse culture that will help with recruiting the right talent in the future.
Mike Putnam, President and CEO Skanska UK, said:
"It's a great honour to win both the Judges' Supreme Award and Diversity Champion of the Year Award. The two go hand-in-hand and everybody at Skanska should feel very proud of this achievement.
"We believe that a diverse and inclusive culture is key to creating a successful and sustainable business. It will help us to create teams where people think differently, while making them better placed to understand the needs of the communities in which we work.
"It is through the way that our people embrace diversity and create an open and welcoming environment that we are able to work collaboratively – with our customers, joint venture and supply chain partners.
"It was fantastic to see from the other Diversity Award nominees how seriously this is being taken by businesses large and small. It's a very positive sign for the future of our industry."
In winning the inaugural Diversity Champion of the Year award, Skanska was recognised for its 'depth and breadth of leadership supporting all strands of its diversity strategy'. Skanska Managing Director Paul Heather and UK diversity champion said:
"We have established a company wide Diversity and Inclusion action group, which has set the strategy and brought focus to all our activities.
"This has included the development of a number of successful networks, including 'Women's', 'Military' and 'LGBT' (lesbian, gay, bi-sexual and transgender).
"We are putting programmes in place that create opportunities for us to recruit people from diverse backgrounds, combined with support to help them thrive when they join us.
"The judges commented on how we have 'hard-coded' diversity and inclusion into our business plan. We believe in doing so we make Skanska a great place to work."
Skanska was also nominated for:
Project of the Year (over £50m) – 1 and 2 New Ludgate, for completing the project ahead of schedule to an excellent quality, combined with an excellent relationship with customer, Land securities
BIM Excellence – The Monument building, for extensive use of BIM which contributed to early project delivery
Training Excellence – for developing a successful education model to deliver a foundation level of health and safety education, combined with specialist training and contribution at industry level
Mike Putnam added:
"To have been recognised in such a breadth of categories, for the work we deliver as well as the way we deliver it, was great to see. Well done to everyone."
In the Project of the Year category (up to £10m) Croydon Council was shortlisted with Skanska for the East Croydon Interchange project and the Supply Chain Sustainability School in the Supply Chain Excellence category.
The awards were held on Thursday 14 July at the Grosvenor House Hotel, London.