Press release
11/10/2016 10:01 CET
One of Bristol's most popular secondary schools, Redland Green, has welcomed its first additional class of pupils after the school was successfully expanded in time for the start of the term.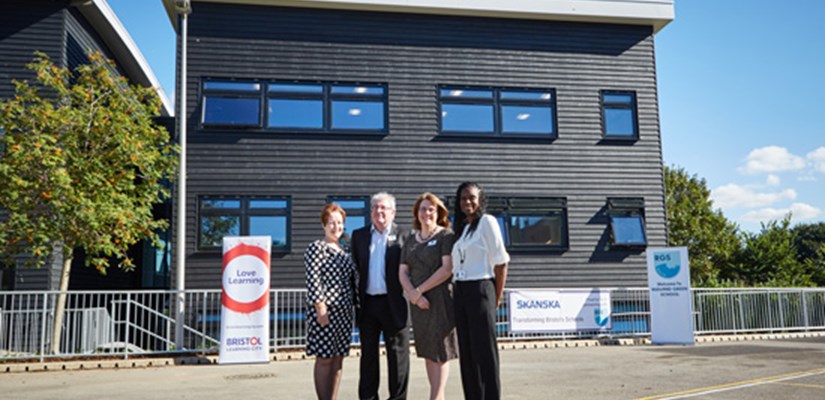 Thanks to a partnership between Skanska, Bristol City Council (BCC) and the Local Education Partnership (LEP), 135 extra places have been created within a tight time frame, enabling Redland Green School to take 27 extra pupils per year for the next five years. The expansion will help to ease demand for secondary places in the north of the city where the school is located.
To expand Redland Green School, Skanska built 27 new modular units offsite using a process which is greener, quicker and safer than traditional methods. The classrooms are an exact match with the existing school, featuring timber cladding and curved roofs.
Marvin Rees, Mayor of Bristol said: "Increasing the number of high quality school places in Bristol is one of our priorities and we are working hard with partners and schools across the city to make this happen. Giving all students access to a strong education and equal opportunities is important to me and this latest project adds another piece of the puzzle."
"I'm delighted that we're now able to welcome more students to our school'" added Sarah Baker, head teacher at Redland Green. "The build process has been very smooth and I'm sure the students will thoroughly enjoy learning in their new classrooms during the years ahead."
John Brennan, Skanska's Bristol director, said: "Building the classrooms off site had many benefits for both us and the school and minimised disruption for students, as all major work was carried out during the school holidays. These classrooms are strong, durable and tailored to the school's requirements so we're very pleased with the end result."
Redland Green is just one of nearly 50 Bristol schools to be improved by Skanska's partnership with BCC and the LEP over the last 10 years. Since 2006, we have helped create over 8,000 new primary places as well as improving the learning environment for over 14,000 secondary pupils.
ends