Press release
17/10/2016 09:01 CET
Skanska is collaborating with the Clare Hall, a graduate college in the University of Cambridge, to commemorate and celebrate Ralph Erskine, the internationally renowned architect.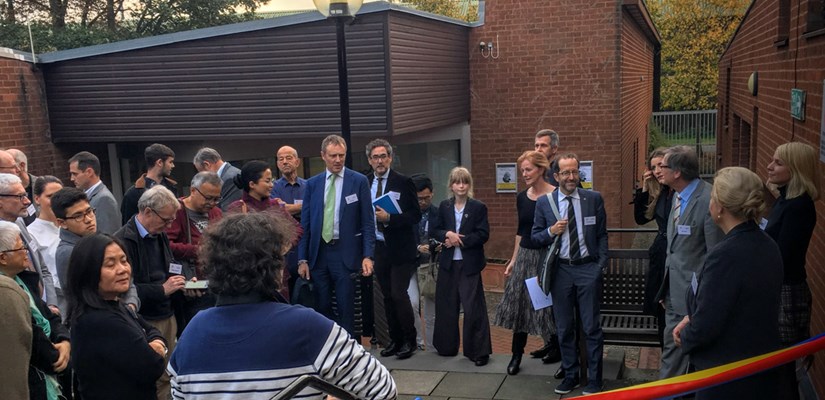 Designed by Erskine, Clare Hall celebrates its 50th anniversary this year with an exhibition of his work, which is being sponsored by Skanska.
Erskine spent much of his career living and working in Sweden. He was a leading advocate of sustainable features in buildings, such as rainwater harvesting solutions.
The British-born architect created iconic buildings in Sweden including the Ekerö town centre and Lilla Bommen office building, designed for Skanska as our headquarters in Gothenburg. In the UK he produced the Byker redevelopment in Newcastle, and the Ark, in Hammersmith, London. He has remained a strong influence on modern architecture.
On 15 October a day symposium, hosted by Professor Alan Short, opened the exhibition. The launch was attended by the Swedish cultural attaché Ellen Wettermark, and featured eminent speakers from the world of architecture and architectural history. This included architect Tony McGuirk, former chairman of BDP, and Elain Harwood, head of 20th Century Architecture at Historic England.
Sam Stacey, Director of Innovation, Industrialisation and Business Improvement at Skanska, talked about the alignment of our purpose to build for a better society and Erskine's mission to create buildings of innovative social, ecological and aesthetic character. He discussed how a collaborative approach to design and construction led to the creation of the iconic Lilla Bommen building, known as 'The Lipstick' in Gothenburg, and discussed examples of sustainable and regenerative building in Cambridge, Sweden and beyond.
The exhibition, which will run throughout the Michaelmas term, is a unique opportunity to view some of the original drawings and architectural sketches prepared for Clare Hall. It will feature original photos, sketches and drawings by Erskine some of which are on loan from Stockholm Architecture and Design Museum.