Press release
03/11/2016 12:00 CET
Skanska and the Papworth NHS Foundation Trust celebrated the Scandinavian tradition of topping out last Friday (28 October) at the construction site for the New Papworth Hospital in Cambridge.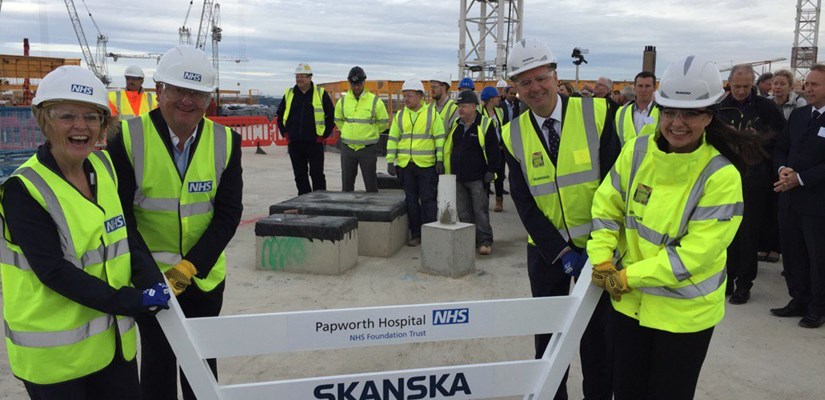 The new building, which has reached its highest point in construction terms, will be home to a state-of-the-art 310-bed cardiothoracic hospital, which will build on the excellent reputation developed and maintained by the trust.
The new hospital will replace the current facility when it is completed and handed over in spring 2018, ready to welcome both staff and patients.
In line with the hospital ethos where patients are encouraged to maintain links with the outside world to aid recovery, all bedrooms will offer outside views, thanks to the innovative design. The iconic pond at the current site will also be replicated as part of the landscaping for the new hospital.
New Papworth Hospital will be part of the newly forming Cambridge Biomedical Campus, which will also include Addenbrooke's Hospital and research centres.
Claire Tripp, interim Chief Executive for Papworth NHS Foundation Trust, and member of the topping out team, said: "I am looking forward to the day when we start to welcome patients and our staff to the new hospital. This facility will offer a fantastic environment for our patients and staff. The location on the Cambridge Biomedical Campus is a fantastic setting and will provide our staff with excellent opportunities for additional training and development."
Professor John Wallwork, Chairman of Papworth NHS Foundation Trust, commented: "From a clinical perspective, the new hospital will offer facilities which will be second to none, which will enhance the patient experience and help us to attract and retain the very best clinical expertise."
Heidi Allen MP, who also took part in the topping out activities, said: "This is an exciting moment for the Cambridge Biomedical Campus as we are near the day when we will welcome this world-class hospital to their new home. It is almost impossible to imagine that the area's world-leading reputation as a centre of excellence for healthcare and research could be further enhanced, but the arrival of Papworth will undoubtedly cement that global position."
Skanska Managing Director, Terry Elphick, said: "We are delivering this large project on time and on budget. We enjoy an excellent, collaborative relationship with our customer, which is both positive and productive. We are working with local suppliers and employing local people which also benefits the community and local economy.
The topping out event was celebrated by a final ceremonial laying of cement, followed by a traditional Scandinavian 'flying of the fir' – when a spruce tree was flown over the building by tower crane.