Press release
17/11/2016 10:15 CET
A special topping out ceremony has been held to mark The Copyright Building reaching an important milestone.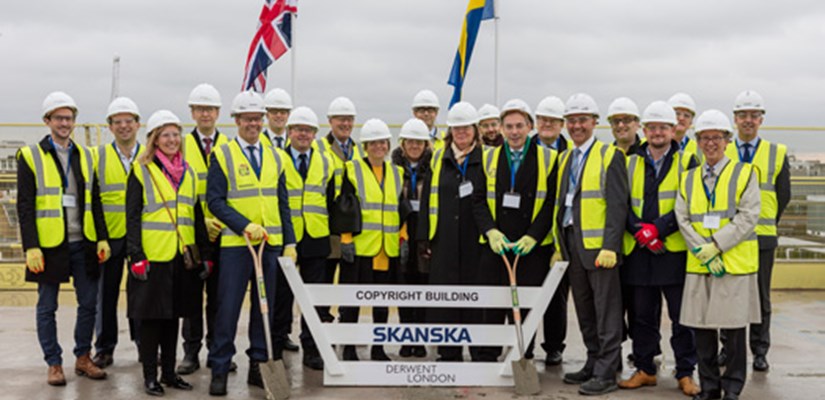 The event, hosted by Derwent London and Skanska, saw over 120 people come together to congratulate the project team on completing the building's main structure.
Located in the West End of London, The Copyright Building is a 9,950sqm commercial development designed by Piercy & Company. When complete, the scheme will provide retail space on the ground and lower ground floors and offices across seven floors featuring two roof terraces.
Speaking at the ceremony Skanska Managing Director Steve Holbrook said: "I'm extremely proud to be here today to celebrate this fantastic achievement. It's been great to be involved in this distinctive development, a notable addition to our portfolio of office and retail schemes in the capital. I would like to thank everyone who has been involved in the project so far and wish the team continued success as the development continues through to completion."
Director of Derwent London, Paul Williams, added: "This is a very exciting day for us, with The Copyright Building becoming a reality and taking its place as a new landmark building in Fitzrovia. We believe the building will provide a fantastic home for Capita with its high quality office space, expansive roof terraces with panoramic views across central London and comprehensive cycling and shower facilities."
Topping out is a phrase used to describe the traditional celebration of the completion of the building's main structure. Dating back to pagan times, this ceremony is said to bring luck and prosperity on the occupants of the new structure. An evergreen tree is hoisted over the building, which is said to ward off evil spirits.
Works are expected to be completed in autumn 2017.