Press release
09/12/2016 13:00 CET
Skanska is one of the first construction companies to be awarded the highest level of BIM (Building Information Modelling) certification in the UK, the BSI BIM Kitemark™. The certification applies company-wide.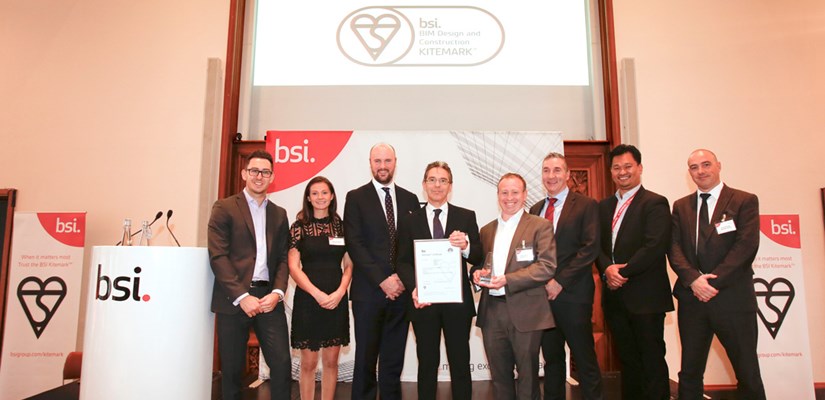 Skanska UK was presented with the certification at the launch of the BSI (British Standards Institution) BIM Kitemark on 6 December.
BSI, the business standards company, launched the new Kitemark for PAS (Publicly Available Specification) 1192-2; to act as seal of approval for companies qualified to deliver projects at the design and construction phase.
It is available to all companies that have already achieved verification stage and are certified to ISO 9001 Quality Management Systems. The Kitemark is a robust measurement of a company's delivery of BIM projects, certifying businesses for their diligence in design and construction, supply chain management and delivery of customer service excellence.
Thomas Faulkner, Executive Vice President, Skanska UK, said:
"We are delighted to achieve the BSI Kitemark, on a company-wide level.
"It's a significant step forward and demonstrates the level of importance that we place on BIM and digital engineering. It's very much become our 'business as usual' approach, with BIM embedded in our ways of working.
"We see it as the catalyst for collaboration, which is helping us to deliver projects more efficiently, safely and sustainably."
The certification follows Skanska UK's achievement in becoming one of the first companies in construction and facilities management to achieve BIM Level 2 for Construction and Design verification from BSI.
Malcolm Stagg, Director of BIM and Digital Engineering, said:
"The BSI Kitemark demonstrates to clients that we are very well placed to deliver projects according to Level 2 BIM and will act as a firm foundation for the digital built Britain initiative over the coming years.
"This is a significant milestone in our digital journey and comes as a result of Skanska's continued commitment to and investment in BIM and Digital Engineering."