Press release
17/02/2017 09:00 CET
The 2017 Soldiering On Awards honoured 46 finalists in 10 categories at a reception at the House of Lords on 9 February. The evening was hosted by the charity's patron, the Rt Hon Earl Howe PC, and celebrated individuals and organisations for their inspirational and outstanding achievements in support of the armed forces community.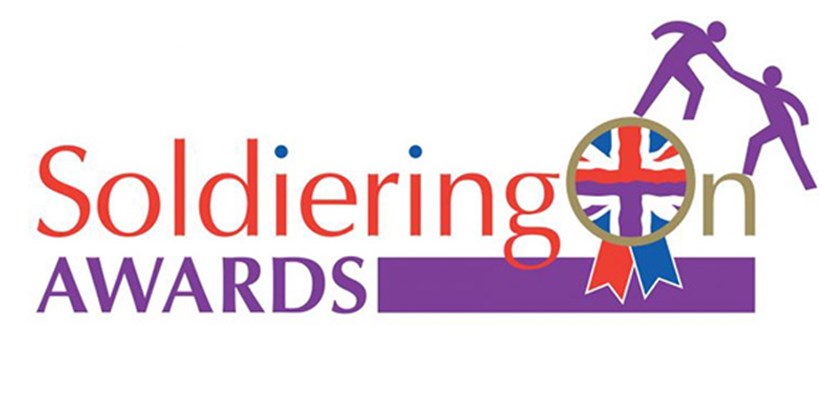 Four of the finalists were recognised in the Inspiration category, made possible by award sponsor Skanska.
Jonathan Webster, Head of Business Development at Skanska and a former Royal Air Force Wing Commander, said: "We are honoured to sponsor the Inspiration Award category. Recognising individuals who have overcome adversity and inspired their communities is hugely important. These amazing people really embody the spirit of Soldiering On."
The finalists for the Inspiration Award are:
Adam Francis – Losing his legs to an improvised explosive device in Afghanistan, Adam's first goal when he woke in hospital was to get home to his family by Christmas. He continued to challenge himself, first walking within three months, then volunteering for experimental robotic prosthetics. Later he returned to his civilian job as an HGV driver, passing his test without the examiner's awareness of his condition. Today his employer, impressed by his attitude and performance, invites Adam to speak to company employees as an inspiration to others.
Clive Jones – In December 2000 Welsh Guardsman Clive was the victim of a vicious attack. His severe head and facial injuries left him blind with no light perception in either eye. Thanks to Blind Veterans UK (formerly St Dunstans) and the love of his wife, Clive was able to rebuild his life, regain his independence and live his life to the full. Since leaving the Army in 2003, Clive has actively fundraised for those less fortunate than himself, raising in excess of £50,000 to date for military charities, local, national and international causes. He is truly an inspiration and is living proof you can triumph over adversity.
Janine Mayoll – Courageous, loyal and the embodiment of professionalism, Janine has faced the most challenging of circumstances while serving others. Over the past three years, she lost her father to cancer, her husband to an undiagnosed blood clot, and her mother unexpectedly, while battling cancer herself. She didn't tell anyone of her diagnosis until she received an all clear, yet during this tremendously difficult time, Janine delivered her duties above that expected of her. Through dogged determination she is rebuilding her life. She successfully completed her sea survival and firefighting training and is now a proud member of HMS Queen Elizabeth.
Simon Weston – Struggling to overcome his injuries (46% burns), Simon endured years of re-constructive surgery following the attack on the Sir Galahad during the Falklands War. His road to recovery saw him active in a number of highly successful ventures and his tireless work for charity earned him an OBE in 1992. He was awarded Freedom of the City of Liverpool in 2002 in recognition of his bravery and his charity work in the region. He appeared in the Top 100 Merseysiders list in 2003 and was honoured as one of the top 100 Welsh Heroes in 2004. In 2015 Simon was awarded the Freedom of the City of London and in 2016 received a CBE for his charitable work. Simon's message is one of single-minded determination, to not only accept what is, but to turn that to your advantage.
Finalists were nominated by members of the public and more than 40 charities and not-for-profit organisations either representing or associated with the wider armed forces community. Winners are selected by a distinguished independent judges panel, co-chaired by General the Lord Dannatt GCB CBE MC DL and Debra Allcock Tyler, Chief Executive of the Directory of Social Change.
"The Soldiering On Awards recognise the amazing contribution that former members of the armed forces – and animal partners – continue to make to society and also those individuals, charities and groups in the wider community who support their journey," said Earl Howe. "We believe that we are all part of one community and are stronger together supporting each other."
This year's winners will be announced at the 2017 Soldiering On Awards on Friday, 24 March at the Park Plaza Westminster Bridge Hotel, London.
The Soldiering On Through Life Trust encourages support for the UK's armed forces community by nationally recognising the achievements of groups or individuals supporting this community through the annual Soldiering On Awards.
For highlights of the 2016 Soldiering On Awards visit: www.soldieringon.org.