Press release
06/03/2017 08:43 CET
Skanska has partnered with The Duke of Edinburgh's Award (DofE) to enable more young people to complete their DofE Award and improve their life prospects.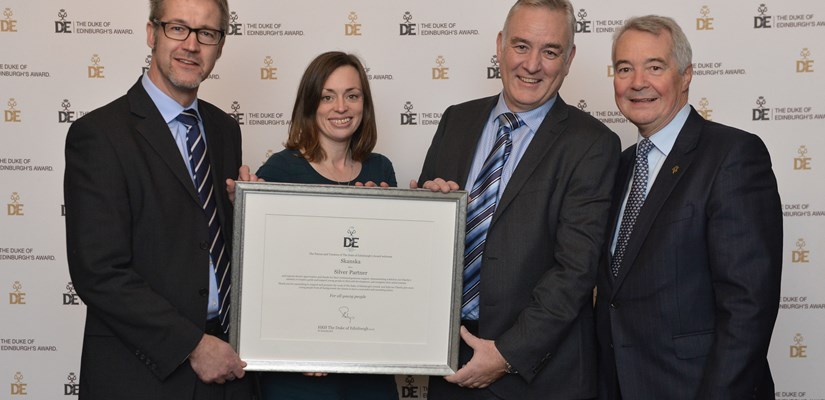 The DofE is a charity that aims to give young people the opportunity to do their DofE, including through their employer to speed up development, make them better at their jobs, and help foster softer skills, attitudes and attributes.
As part of Skanska's apprenticeship programme, the new charity partnership will enable Skanska's apprentices the opportunity to do their Gold and Bronze DofE, as part of an 18 month programme.
To achieve their Gold and Bronze Award, employees will complete all the DofE sections, including Volunteering, Physical, Skills, Expedition and Residential. There will be a with a focus on developing valuable skills for business such as team-working, commitment, determination, communication and a positive approach to work. In addition, they will contribute to their local communities through volunteering activities which could range from befriending older people to helping out at an animal rescue centre or supporting a local charity.
Executive Vice President Harvey Francis, said: "The Duke of Edinburgh's Award has a great track record of helping young people achieve and demonstrate their full potential. For us, this is a fitting way to prepare the next generation for business. It aligns clearly with our values and our way of working and I'm looking forward to using this to build on our current apprentice and trainee programme."
DofE Business is backed by leading British employers and organisations who share a common goal; to invest in the future of young people, in business and the UK. As part of the initiative, Skanska will support the charity towards its aim of two million more young people in the UK, including 400,000 from disadvantaged backgrounds, starting their DofE by 2020, regardless of any barriers.
Peter Westgarth, Chief Executive of The DofE said: "We are trying to reach out and help as many young people as possible. We know that employers value an employee's attitude just as much as academic qualifications, and that's where we come in. Employers tell us they are actively looking for DofE Award holders at interview. For young people wanting to get a job, a Duke of Edinburgh's Award can make a real difference. The DofE transforms lives and we are delighted to have the support of Skanska giving more young people a better chance to lead a more productive and fulfilled adult life."
The Duke of Edinburgh's Award
Notes to editors – figures correct as of 2015-16 stats
The Duke of Edinburgh's Award (DofE) is the world's leading youth achievement award that develops over 300,000 young people for life and work every year in the UK. Founded by HRH The Duke of Edinburgh in 1956, the DofE is currently being delivered in 13,218 DofE centres, supported by 1,800 partner organisations and approximately 50,000 adult volunteers from all walks of life.
In total, over 5.8 million people have participated in DofE programmes in the UK and achieved over 2.5 million Awards since 1956. In 2015/2016, 119,892 achieved a Bronze, Silver or Gold Duke of Edinburgh's Award.
The DofE is supported by UK employers including British Gas, RSM, Amey, Heathrow, DFS and Royal Mail who endorse the skills and attributes developed whilst doing a DofE programme such as resilience, commitment, self-motivation and team working.
The Duke of Edinburgh's Award is a Registered Charity No 1072490 and in Scotland No SC038254 and a Royal Charter Corporation RC000806
The Duke of Edinburgh's International Award Foundation is a Registered Charity in England and Wales, No 1072453. There are more than one million young people currently participating globally in more than 141 countries and territories.
For more information about the DofE go to www.DofE.org