Press release
24/04/2017 09:00 CET
London Marathon runners were able to view the progress on the refurbishment of Battersea Power Station's iconic chimneys yesterday.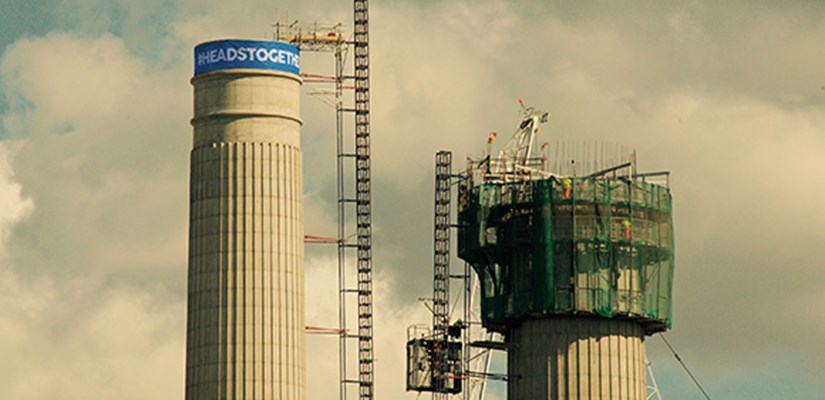 In addition, the north-east chimney was sporting a blue headband in support of the Heads Together campaign. The team at Battersea Power Station is getting behind the charity, which is led by Prince Harry and the Duke and Duchess of Cambridge and was the Charity of the Year for the London Marathon.
According to research commissioned by Public Health England (PHE), male construction workers have a higher than average risk of developing mental health issues. Skanska, the lead construction contractor working on the power station building, has eight mental health ambassadors working on site. They each volunteer a few hours of their time per week to provide support and raise awareness of mental health issues for the 3,000+ construction operatives currently working on the Battersea Power Station project.
Installing the chimney's headband coincided with a number of mental health initiatives during last week. For example, the team of on-site nurses at the power station held stress drop-in sessions and talks for all workers on how to look after your mental well-being.
The Battersea Power Station Foundation has also provided grants to a number of mental health charities and projects in Wandsworth and Lambeth, including Black Thrive, Battersea Befriending Network and Commons CIC.
Rob Tincknell, CEO at Battersea Power Station Development Company, said: "On behalf of our shareholders, we are delighted to be supporting the Heads Together campaign. Mental health is a really important issue that is finally getting the attention it deserves."
Ravi Govindia, Leader of Wandsworth Council, said: "Whether it's flying pigs or giant headbands, stunts involving this magnificent building have the power to command attention like no other! I'm delighted this world famous landmark is broadcasting support for such a vitally important cause and I want to thank everyone who has helped make it possible. The Battersea Power Station team is doing some incredibly valuable work with local charities and communities and this latest initiative raises the bar even higher."
About Heads Together
The Duke and Duchess of Cambridge and Prince Harry are spearheading the Heads Together campaign to build on the great work that is already taking place across the country, to ensure that people feel comfortable with their everyday mental wellbeing, feel able to support their friends and families through difficult times, and that fear no longer prevents people talking or getting the help they need. Heads Together brings together a team of Charity Partners that have achieved great progress in tackling stigma, raising awareness, and providing vital help for people with mental health problems.
The team covers a wide range of mental health issues that are close to The Duke and Duchess and Prince Harry's passions. They are: Anna Freud National Centre for Children and Families; Best Beginnings; CALM – The Campaign Against Living Miserably; Contact (a military mental health coalition); Mind; Place2Be; The Mix; and YoungMinds. The privilege of being the 2017 Virgin Money London Marathon Charity of the Year gives Heads Together a positive platform to raise funds for the support provided by the campaign's charity partners and to start millions of conversations.
The Heads Together campaign is being generously supported by The Julia & Hans Rausing Trust, ShareGift and the first three Heads Together Founding Partners - Dixons Carphone, Unilever UK and Virgin Money. This support will help amplify the aims of the campaign as well as fund specific projects designed to help us all with mental health.
Social Media: #HeadsTogether #TeamHeadsTogether
About Battersea Power Station
Battersea Power Station is one of central London's largest new developments in which roughly half the development comprises retail, shops, restaurants and office space. In addition, there will be a six-acre public park, town square and a new tube station (scheduled to be within Zone 1).
The Battersea Power Station project is 42 acres and includes 3.5m sq ft of mixed commercial accommodation together with c4,500 new homes.
The successful regeneration of Battersea Power Station will create 20,000 new jobs, inject £20bn into the UK economy and create a funding mechanism for the first major tube line extension since the Millennium.
The Battersea Power Station Foundation supports local charities and community projects, in its first year of operation, £1m in grants will have been awarded, and close to £2m will be awarded in 2017.
Battersea Power Station is owned by a consortium of Malaysian investors comprising S P Setia, Sime Darby and the Employees' Provident Fund. Management of the development is being undertaken by British-based Battersea Power Station Development Company.