Press release
28/04/2017 13:00 CET
A Skanska team working at Great Ormond Street Hospital for Children NHS Foundation Trust (GOSH) has created and launched a book – The Bloomsbury Swan – dedicated to children and families everywhere who have been affected by syndromes without a name (SWAN).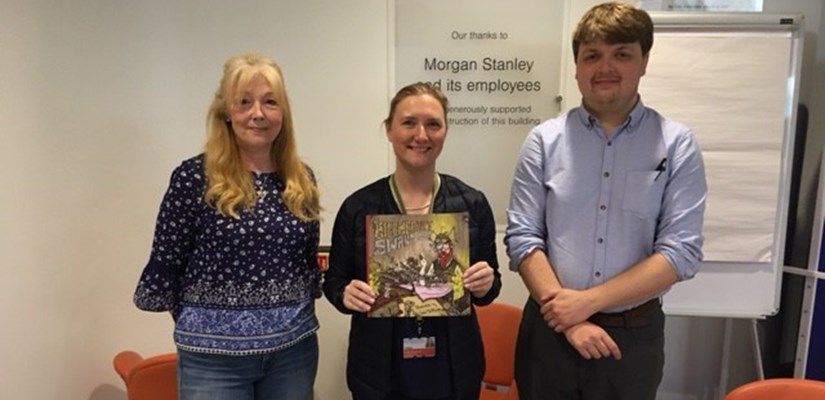 To mark SWAN UK's national Undiagnosed Children's Day on Friday 28 April, Skanska worked in partnership with GOSH Development and Property Services and GOSH Arts to host a book launch, to share the story and give copies of the book away as gifts.
Lots of patients, families, staff and GOSH volunteers joined in with swan-inspired arts and crafts activities and met author Di Toft and illustrator Josh Williams to talk about the story and have their books signed.
The Bloomsbury Swan story was inspired by the beautiful new swan sculpture at GOSH, which complements the building's natural world theme, incorporating interior design elements depicting animals in their natural habitat. It creates a pleasing visual distraction for patients, families in the hospital.
The sculpture consists of a majestic bird lifting up from the reeds and waters below, taking flight from the hospital campus. The water's surface is defined by metal rings set over flattened steel reeds and sparkling silver fish.
Fiona McArthur, Community Investment Manager at Skanska, said: "The construction team has been very passionate about leaving a positive community legacy as a result of our work to create the Premier Inn Clinical Building. We are delighted that the GOSH team has supported our efforts, which has resulted in the creation of The Bloomsbury Swan. We hope that everyone enjoys reading the story."
Di Toft, children's author, said: "When I heard about the GOSH swan sculpture creating a story about it was straightforward. I hope it appeals to both the young and the young-at-heart. The hospital does amazing work and Skanska has made a positive contribution by taking an innovative approach to construction."