Press release
04/07/2017 12:00 CET
Building Pathways, a Youthbuild UK event, took place at Skanska's Cambridge Biomedical Campus project recently and included the launch of the organisation's 2017 Young Builder of the Year Awards.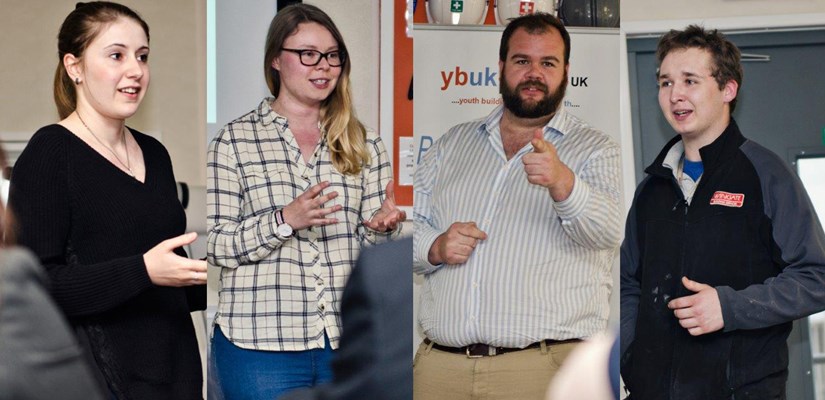 The event saw dozens of local young people visit the site to hear from a range of speakers. Discussion topics included how individuals had made the most of their career opportunities and around the barriers the construction industry faces regarding attracting new entrants.
Justin Phillips, a highly commended prize winner at last year's Young Builder of the Year awards, explained how much attending the awards ceremony at the House of Commons had meant to him. Justin shared his story about transforming his life from young offender to management trainee with Morgan Sindall.
Harry Wain, Skanska Community Engagement Advisor at Battersea Power Station, shared how the construction and development company is really enthused by the success of ex-offenders now working on the project: "We should celebrate their achievements and let everyone know how they can become great employees," he said.
Jane Cosh, Essex Youthbuild, told how they worked with disadvantaged 14-19 year olds referred to them by different agencies. She outlined their flexible approach: no formal entry requirements, late starts (9.45am), breakfast provided, attendance bonuses and roll on/roll off starts, which enable them to engage with and develop their students.
Stephanie Mills, Health and Safety Advisor at Skanska's Cambridge site, spoke about encouraging more women into the industry: "We need to identify female role model and get them into schools to tell young women about the huge range of career possibilities – trade, technical, professional and management." She also encouraged the audience to join her as STEM ambassadors to promote construction in schools.
Tristan Robinson, an electrician from Wingates is working at the Cambridge site. He has ADHD and dyslexia and talked about his battle to gain qualifications to start an apprenticeship and how all the hard work was now paying off. He said that at the moment there were lots of people similar to him, who were put off joining the industry by the academic requirements.
Finally, Jessica Lumley, a Skanska Construction Supervisor at the Cambridge site, shared her Skanska career story. Starting in HR after university, she then discovered all the opportunities that construction offers, so changed direction. Jessica said: "At school no one even suggested working in construction. I now promote the industry in schools to help make its wealth of opportunities a career option for young people."