Press release
24/07/2017 14:00 CET
Skanska, the construction and development company behind the redevelopment of the Princess Royal Barracks at Deepcut, Surrey, has selected the housebuilder to deliver the first phase of housing at the Mindenhurst scheme. CALA Homes (Thames) Ltd is the successful bidder for the first land sale and is set to build some 215 new homes.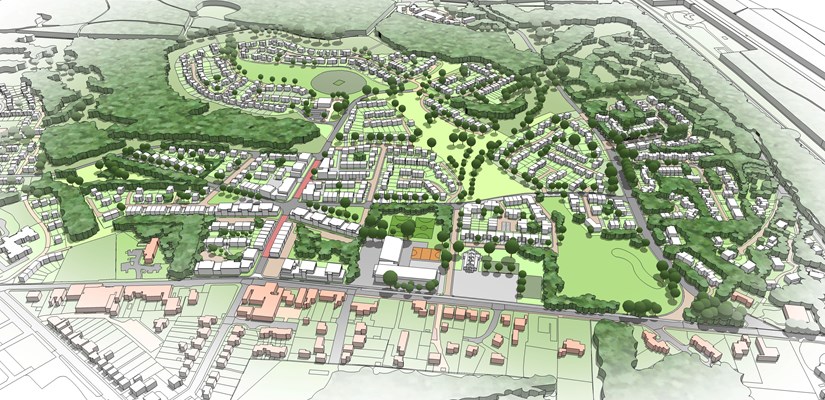 Having acquired the first plot, CALA will now submit a detailed planning application to Surrey Heath Borough Council and could begin construction as early as 2018. The first phase of homes at Mindenhurst will offer a mix of two- to five-bedroom property types suitable for first-time buyers, growing families and downsizers.
Mindenhurst is being delivered by Skanska on behalf of the Defence Infrastructure Organisation (DIO), with each phase of new homes allocated to individual housebuilders. Further phases will be released as the scheme progresses. Skanska is also responsible for key infrastructure, such as new roads, public realm and community amenities.
Tony Pantling, Development Director at Skanska, said: "The selection of the housebuilder partner to deliver the first new homes is a key milestone for this project. This first phase is particularly significant as it sets the tone for the emerging community here at Mindenhurst and we are very much looking forward to seeing our vision, as laid out in the masterplan, come to fruition."
Nick Twine, Managing Director of CALA Homes (Thames) Ltd, comments: "This is a project we are delighted to be involved with and demonstrates a continued investment by CALA Homes into high quality locations across the south of England. We look forward to working closely with Skanska in delivering this first place making phase of Mindenhurst."
DIO Deputy Head of Estates, Wendy Ivess-Mash, said: "This is a momentous phase in the re-development of the site, following many years of MOD ownership. We welcome the involvement of CALA in delivering the first phase of new homes, which will support the formation of a vibrant new community."
Mindenhurst is a flagship project which will deliver around 1,200 new homes. The masterplan also includes provision for key local amenities, such as a new primary school, village green, pub, shops and business space.
Skanska is the DIO's development partner on Project Wellesley, which involves the construction of a bespoke new training facility at Worthy Down in Winchester that, in part, will replace the existing Princess Royal Barracks at Deepcut. All military functions and personnel will be relocated to Worthy Down in phases as part of an agreed programme.