Press release
26/07/2017 10:00 CET
Two days of hard work by 10 Skanska volunteers recently delivered a new student garden for The Henry Beaufort School, officially opened by the Right Reverend Tim Dakin, Bishop of Winchester.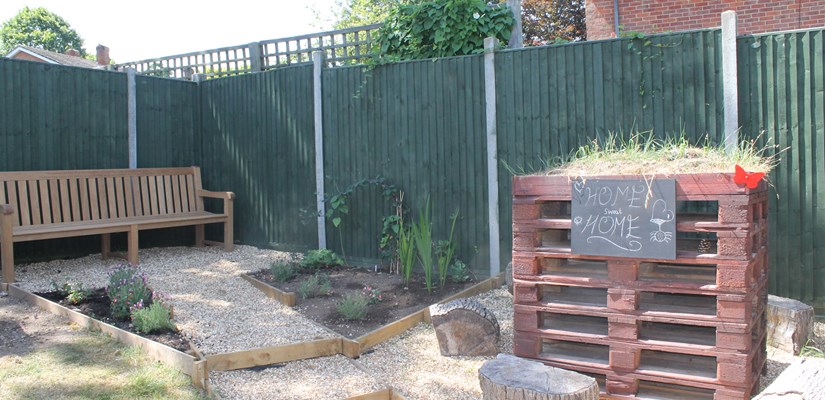 The project team created a special dual-purpose place for students who will start a horticultural club and grow flowers, fruit and vegetables, beside 'Mac's Place – a contemplative space to remember former student Mac Sutcliffe, who sadly died during the school year.
The 10-strong team cleared the whole garden, painted the fence and fixed the retaining wall. They also created a walkway which will enable students to visit a memorial bench and sculpture that the school and the Sutcliffe family have donated to commemorate the young man.
A second path was constructed, which runs through the horticultural area, to divide the space for planting fruit and vegetables. A new seat and planter was also made and installed, along with raised beds and tiered planters, all created using recycled pallets, which the students have already filled with plants and flowers.
The two-day physical challenge was the culmination of a long-term plan put together by the school and the Skanska team which is building new facilities, including a college, accommodation and leisure facilities, at the Worthy Down military base on behalf of the Defence Infrastructure Organisation.
Mike Snook who helped design, plan and create the garden: "It has been hard, but ultimately fulfilling work creating the garden for the students," he said. "It's incredible what can be achieved through good planning and a strong team effort."
Sue Hearle, Head Teacher, said: "Thank you so much for all the work that you undertook for the garden project to be completed. It looks magnificent. All the volunteers from Skanska did a marvellous job."