Press release
24/07/2017 10:00 CET
Skanska is to build the St Giles Circus development in the West End of London for developer Consolidated Developments. The contract is worth £142 million.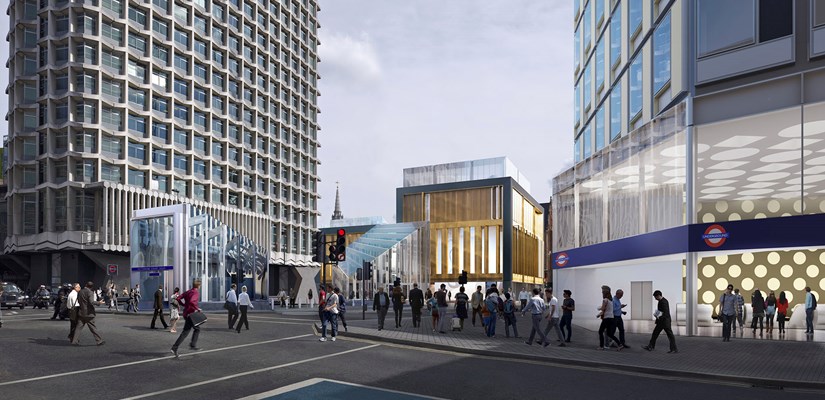 The scheme is quite varied, combining retail, leisure and entertainment spaces, commercial offices and residential accommodation across four new buildings and a number of existing buildings.
The largest of the new buildings incorporates an innovative, retractable façade on its middle floors, revealing an urban gallery that will be open to the public at street level. The building's foundations straddle the Crossrail tunnel, above which the team will construct an underground 'box within a box' to contain an auditorium. Another of the new buildings incorporates a Victorian retained façade.
In a later phase, the team will refurbish the buildings along the north side of Denmark Street, London's 'Tin Pan Alley', an area with a rich history in music. The street was once home to 'The NME' and 'Melody Maker', as well as recording studios that saw The Kinks, the Rolling Stones and Elton John pass through their doors. The refurbishment covers a number of Grade II listed buildings on Denmark Street, Denmark Place and St Giles High Street, some dating back to before the Great Fire of London in 1666.
The many independent music shops on this side of the street will see their premises updated, with offices and residential accommodation on the upper levels. Thoughtful programming ensures there will be minimal disruption to these local businesses.
A 300-year-old structure behind Denmark Street that has been a stable yard and a blacksmith in its time, and was most recently part of the famous 12 Bar Club music venue, will be placed on a concrete raft and moved temporarily within the site, before being returned to its original location to become part of the entrance to the underground auditorium.
To deliver this project to shell and core, Skanska is combining its skills in design, piling and foundations, temporary works, construction and mechanical and electrical engineering. The new buildings will be built to meet BREEAM (2011) Very Good. The domestic refurbishments are designed to meet BREEAM (2012) Excellent.
"We were able to offer a programme with innovative scheduling, so that the above-ground and underground elements can be built simultaneously," said Skanska managing director Steve Holbrook.
"We've worked hard with local businesses and organisations like Historic England to ensure the character of the area is retained and continues to serve music lovers into the future, through both its new and existing buildings. It's great to be part of a scheme that is bringing a major performance venue back to the area."
Richard Metcalfe at developer Consolidated Developments said: "We look forward to working with Skanska on this important development, which will revitalise this part of London, bringing exciting new amenities, retail opportunities and residential accommodation to the area."
Construction work starts in July 2017 and is expected to be completed in Q1 2020.