Press release
25/08/2017 09:30 CET
Skanska's two construction projects on the Cambridge Biomedical Campus have secured a winner's position and runner-up spot in the 2017 Ivor Goodsite hoarding competition.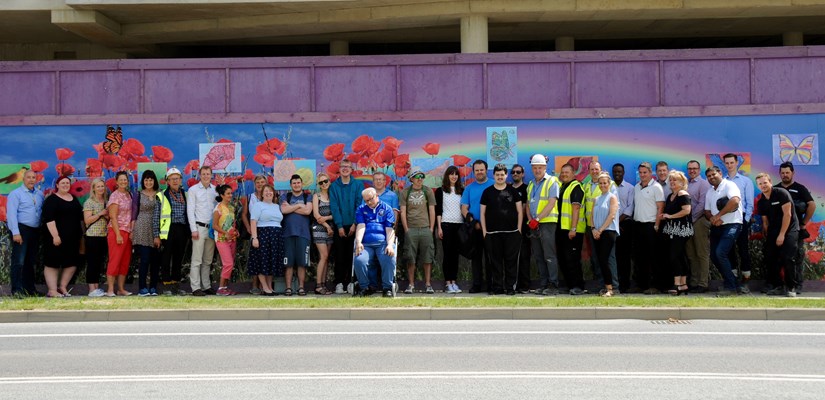 The AstraZeneca project was named a winner for the second successive year, this time for its entry in partnership with the project team's charity of the year, 'Red2Green', which helps young people and adults with learning disabilities, on the autistic spectrum or living with mental ill health to achieve their goals.
The entry saw clients from the charity contribute to the design of a 2.4m high, 25m-long section of site hoarding, which includes a background print of a poppy field, with colourful images of flowers, birds and butterflies added to it, expressing hope and positivity.
As part of the process, members of the construction team helped Red2Green clients to colour in the added pictures. A total of 25 drawings were completed, blown up to A2 size and added to the display.
A short unveiling ceremony was held at the site, with all those involved in the project from Red2Green, Skanska, AstraZeneca and the project's subcontractors invited to see the artwork on display. An additional set of the drawings has been given to the charity for display in their work spaces, to maintain the connection with the project team.
Dean Poillucci, project director, said: "I'm delighted that the team's work with the charity has been recognised with this award. The new hoardings are a great addition to the area and will have a positive impact on the local people who see them. We are highly engaged with Red2Green and are passionate about using our expertise and energy to help others."
Across the road, on the New Papworth Hospital site, the project team engaged with its chosen charity, Papworth Trust, to create artwork for the competition.
Drawn and coloured completely by service users from the charity, which supports disabled people across the east of England, their hoarding secured a runner-up spot.
Phil Savill, Construction Manager, even donned the Ivor Goodsite costume and visited the charity to help encourage their creativity.
After installing the artwork close to the site entrance, the team built a selfie bench from pallets to enable visitors to take pictures in front of the hoarding. They also planted flowers in old site boots to complete the look.
"It's important that we take these opportunities to support groups and individuals in the areas where we are building for a better society," said Kevin Kilcoyne, project director. "The Ivor Goodsite hoardings competition is a great way to bring our workforce and local community groups together."