Press release
20/11/2017 17:05 CET
The UK's biggest road construction project marks its first full year of work.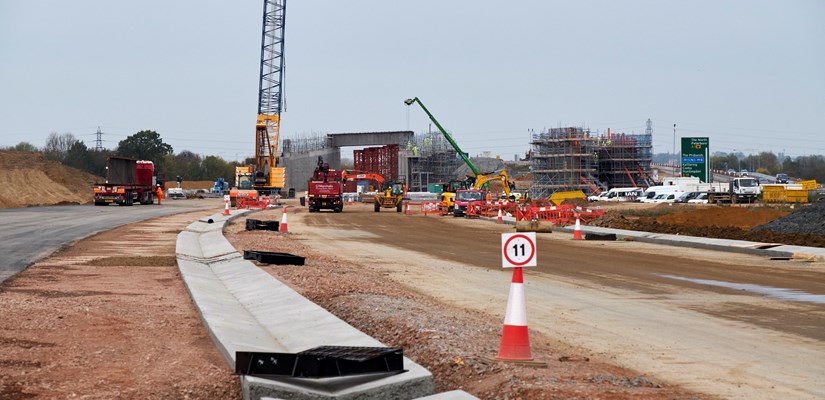 21 miles of the A14 between Cambridge and Huntingdon are being upgraded to three lanes in each direction, including a brand new 17-mile bypass south of Huntingdon, with four lanes in each direction between Bar Hill and Girton. The project will add additional capacity, boost the local and national economy and cut up to 20 minutes off journeys.
The 2,200-strong construction team is achieving the project's challenging timetable, with the improvements on track to open by the end of 2020.
More than a quarter of the project's main construction work has been successfully completed: a total of 3 million hours have been worked, and 2.5 million cubic metres of soil (equivalent to 1,000 Olympic swimming pools) have been moved into position to create foundations for the road and junctions.
34 bridges and structures are being built as part of the scheme, including the new 750-metre long River Great Ouse viaduct. One is already open to traffic and those remaining have nearly 750 major components completed.
Other highlights include:
The project's ecology team has already created three of the 18 planned wildlife habitats, covering a total of 271 hectares of new habitat by the scheme's completion
The A14 Community Fund has allocated more than £110,000 to 16 local projects over the past year, benefitting more than 2,000 people
22 apprentices and 44 graduates have been recruited into the project team and 19 students have done work experience on the scheme. 80 local career events have been attended and 30 schools visited, to promote science, technology, engineering and maths (STEM) studies and to encourage young people to consider careers in civil engineering
200 archaeologists are working across the scheme. More than 25 settlements have been uncovered so far, including Iron Age, Roman, Saxon and Medieval villages
The mobile visitor centre has visited 32 towns or events and welcomed over 2,400 visitors to keep people updated about the scheme.
Glennan Blackmore, Operations Director, Skanska UK, said:
"The delivery team has worked extremely hard to ensure this world-class project remains on time and will deliver significant improvements for road users and communities."
David Bray, Highways England's A14 Project Director, said:
"The improvements we are delivering between Cambridge and Huntingdon are vital for the local area and for the country's economy. We set out to deliver world leading infrastructure improvements a year ago and this is exactly what we have been doing so far.
We've been using innovative ways of working to speed up construction, such as making our own concrete building parts on-site and using temporary bridges to move construction materials across site without having to use the main roads.
And we've done all this while looking after the environment alongside the project – we plan to have a positive impact by the time we finish – and giving local people opportunities to find out more, get involved or get funding for relevant projects."
Skanska, in joint venture with Costain, Balfour Beatty and Carillion, is delivering the A14 Cambridge to Huntingdon improvement scheme.