Press release
07/03/2018 15:30 CET
Between 19-24 March we're inviting members of the public to go behind the scenes at eight of our projects and offices as part of Open Doors 2018.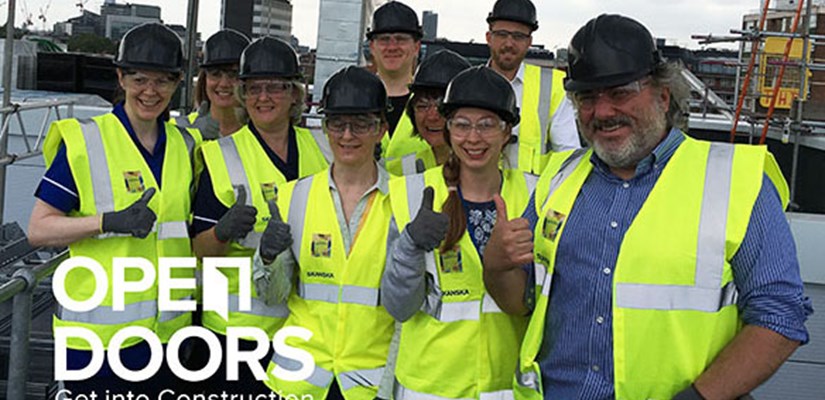 Open Doors week is an annual event that offers people of all ages and backgrounds a unique opportunity to take a look behind the hoardings of live construction projects across the country.
Visitors will have an opportunity to take a tour of the site, meet construction and engineering teams and find out more about the broad range of careers available in the construction industry.
Skanska projects and offices taking part in this year's Open Doors include:
- A14, Cambridgeshire (sites at Brampton, Ermine Street and Swavesey)
- Bentley Works, Doncaster
- Crossrail - C360 Shafts and Headhouses, London
- eight2O Waterworks Bridge, London
- Gloucestershire Street Lighting, Gloucester
- Great Ormond Street Hospital (Zayed Centre for Research into Rare Disease in Children), London
- Surrey Street Lighting, Guildford
- Waterloo International Terminal (Wessex Capacity Alliance), London
Waterloo International Terminal and eight2O Waterworks Bridge are both already fully booked, but places are still available at the other locations.
Skanska's Director of Environment and Community Investment, Adam Crossley said: "We're delighted to be taking part in this year's Open Doors, continuing our long-standing support for this important industry event.
"It's a great opportunity to give people a real insight into what it's like to work in our industry and promote the exciting and diverse range of career options available."
Open Doors is delivered by Build UK in partnership with the Construction Industry Training Board.
To find out more, or to sign-up for a site visit, please click on the respective links above or visit the Open Doors 2018 website.