Press release
14/03/2018 09:00 CET
HRH, The Duchess of Cambridge visited patients, families and hospital staff at Great Ormond Street Hospital (GOSH) on 17 January 2018. Her Royal Highness visited to officially open the hospital's new medical centre.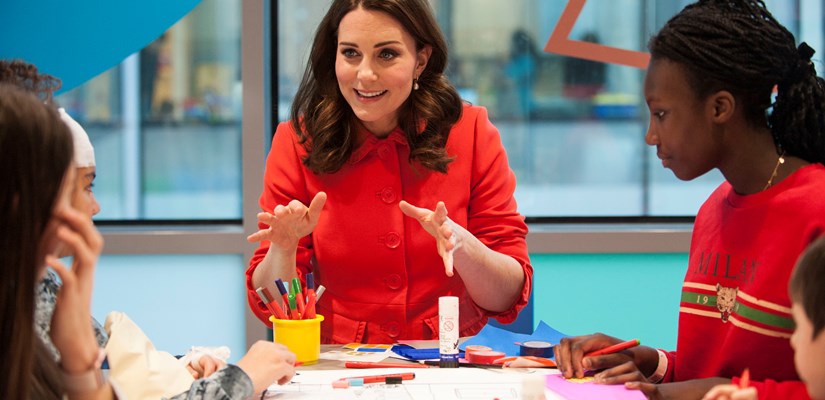 The Mittal Children's Medical Centre, which has 240 beds, spans two connecting wings, including the new Premier Inn Clinical Building, which was built by Skanska. It will see children move out of old facilities and into brand new, modern wards with ensuite bedrooms where parents can stay comfortably with their child overnight.
Her Royal Highness spent time with cardiac patients, some of whom have spent months in hospital on pioneering heart devices, which help them to stay alive whilst they wait for a heart transplant. GOSH is just one of two centres in the UK to offer this treatment.
The Duchess also met children with rare and complex medical conditions who were taking part in an art activity. She joined them as they drew what they liked most about their bedrooms and the new facilities. The activity, which took place in one of the hospital's playrooms, was facilitated by GOSH Arts, the hospital's arts programme.
Great Ormond Street Hospital patient Oriel Gray, 14, from Brecon and her mum Fiona Gray, 49, also had a special visit from The Duchess. Oriel was in hospital recovering from surgery to reconstruct her ear. Oriel said of the meeting: "She was really friendly and very beautiful. I told her that the hospital feels like a second home because my mum can stay with me and I have my own bathroom. As a teenager that's really important. The new ward is amazing and all the nurses and doctors make you feel welcome. After my surgery yesterday, it was great to take my mind off everything. She said I must be very brave."
As many as 618 children arrive at GOSH with their families from across the UK, for treatment each day. There is growing demand for the hospital's services and the new centre is part of the ongoing redevelopment of the hospital. It has been made possible thanks to Aditya and Megha Mittal, Premier Inn and Restaurants and generous supporters of Great Ormond Street Hospital Children's Charity. It will offer state-of-the-art wards and surgical facilities, allowing the hospital to treat more children and provide an improved experience for patients and the families.
Speaking at the opening event in January, her Royal Highness the Duchess of Cambridge said: "I just wanted to say a huge thank you for having me here today. It's been my first trip to Great Ormond Street Hospital and I've been so impressed with everything I've seen and the scale of the work that's going on here. It's been wonderful to meet so many families and young people and I've been so inspired by their bravery and courage at such a difficult time. Really my main message is congratulations to you all from those guests from the building perspective and also for all of the supporters who are in the room today. It means so much to the families, both to the parents and the children and you can see the real family element that the hospital brings at such difficult times. So well done, huge congratulations and I wish it all the very best of success for the future. Thank you."
Alison Brittain, Chief Executive Officer of Whitbread: "We are absolutely delighted to be celebrating this special occasion and I'd like to take this opportunity to thank Premier Inn and Restaurants' team members, customers and suppliers for their tremendous generosity in raising funds for this very special hospital. The Premier Inn Clinical Building will help the hospital and its amazing and dedicated teams of medical and nursing staff to provide the world-class care for which it's renowned."
Burgess Pocock, Project Director for Skanska, said: "Delivering the project took a tremendous amount of effort from everyone. We faced a variety of difficult challenges along the way. Working together with the GOSH redevelopment team ensured we successfully delivered. My thanks to all of the construction team for working so hard and to such a high standard – it is truly a project where we have built for a better society."
Find out more about the Premier Inn Clinical Building.
Watch the GOSH Facebook film.