Press release
17/05/2018 14:00 CET
The team delivering Project Wellesley's Worthy Down base has scooped its third consecutive national gold award from the Considerate Constructors Scheme (CCS).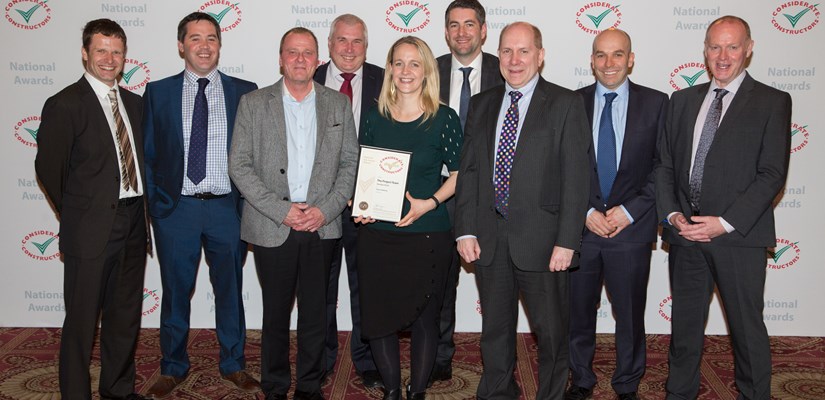 The £300 million project, being delivered for the Defence Infrastructure Organisation, on behalf of the Ministry of Defence, scored highly in each of the five categories – appearance, community, environment, safety and workforce.
With a total score of 45 out of 50, the scheme assessor recognised the efforts of the team: "There continues to be a real feel-good factor about this project and one cannot help but be impressed by the company's commitment to best practice and fully meeting the requirements of the 2017 Code of Considerate Practice. I can honestly say this enthusiasm is contagious and the contractor has clearly fully engaged the workforce in scheme related issues and about operating in a considerate manner always."
Areas that received particular recognition included the installation of electric vehicle charging points on site, the ongoing community engagement and outreach work carried out, and the focus on mental health wellbeing for all construction workers.
The aim of the scheme is to improve the image of construction by monitoring all registered sites, offering suggestions regarding potential improvements and rewarding those performing at the highest levels.
Paul Weale, project director, said: "I'm very proud of the team for achieving a hat-trick of gold awards from the CCS. It's an ongoing assessment process, so maintaining consistently high standards across all areas is challenging, but it's also rewarding when we receive recognition and know that we are making a positive contribution to the sector, the military and the community."
Emily Simmons, DIO's Deputy Head of Major Projects 1, said: "We are delighted that Skanska has achieved this accolade. It shows the team's commitment to this project and demonstrates their contribution to the local community, the environment and their staff. We look forward to continuing to work closely with them to deliver the new facilities for our military personnel at Worthy Down."
The CCS monitor, following a site visit, concluded by remarking: "I have no doubt whatsoever the site will continue to perform at the highest possible levels in terms of scheme compliance and that there will be further positive advances on site in the months ahead."