Press release
11/07/2018 14:22 CET
The Waste Management team at Barts NHS Trust won the HSJ Value Award for Facilities and Estates Management and the NHS Sustainability Award for the 'Reuse' category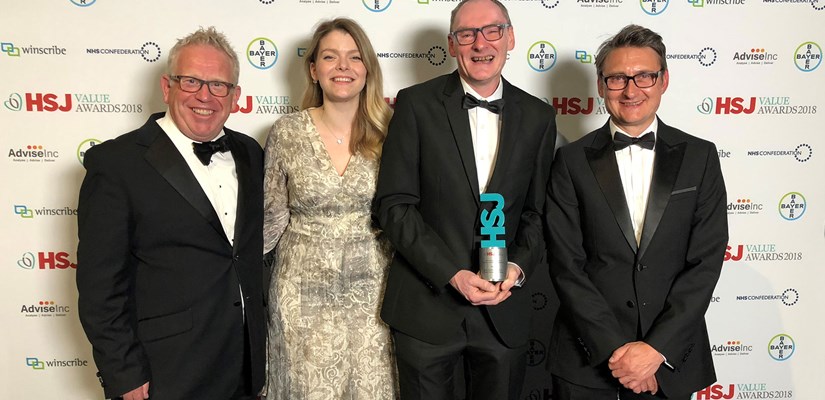 The HSJ Value Awards recognise and celebrate outstanding improvement in care quality and efficiency by NHS staff members and supporting organisations.
This year, the HSJ Value Awards received almost 600 entries, of which only 190 made the shortlist. From those, 20 deserving winners were named by the expert panel of judges.
The judges said: "The winners of this award demonstrate innovation and passion to take recycling and reuse to the next level, with a wide stakeholder involvement inside and outside the NHS."
This is the second award that the Barts Waste Management team have won, as during May they team were awarded the NHS Sustainability Award for the 'Reuse' category.
Over the last two years the team, in partnership with Barts NHS Trust, have been working to reduce unwanted bulk waste items being donated to charities, social groups and local communities.
The result of this work has meant that 98 skips of waste have been diverted and approximately 10,000 items have been donated, with 1,458 communities benefitting from the equipment. Furthermore, 1,200 items were refurbished and reused within the Trust. All these actions have resulted in £154,000 procurement savings from avoiding to buy new furniture and £48,000 disposal savings.
Katerina Tzafilkou, Graduate Waste Manager, Building Services said: "We have been working very closely with Barts Health NHS Trust staff. Once they contact us of any unwanted items, we assess and decide which ones can be refurbished and reused at Barts Trust and which can be donated to charities. What impresses me most is how this started from a small project and how more and more Trust staff get in touch with us now on a daily basis. Also, the fact that they appreciate the sustainable character of our work is fantastic!"
Rachael Baldwin Sustainability Manager, Building Services said: "Winning these two awards is an amazing achievement by the team. Liam Hogg and Katerina Tzafilkou have worked very hard to achieve this result. The awards demonstrate that we are moving from managing waste to now managing resources, moving up the waste hierarchy with the ultimate goal being no waste at all and this award is recognition of a great step forwards in this journey – well done everyone!"
Skanska provides high-quality facilities services for Barts and the Royal London hospitals, including estates management, hard facilities management, grounds maintenance, energy and utility management, waste management and telecommunications.