Press release
13/07/2018 15:50 CET
Skanska won two awards and was highly commended in a third on a night of success at the Construction News Awards 2018.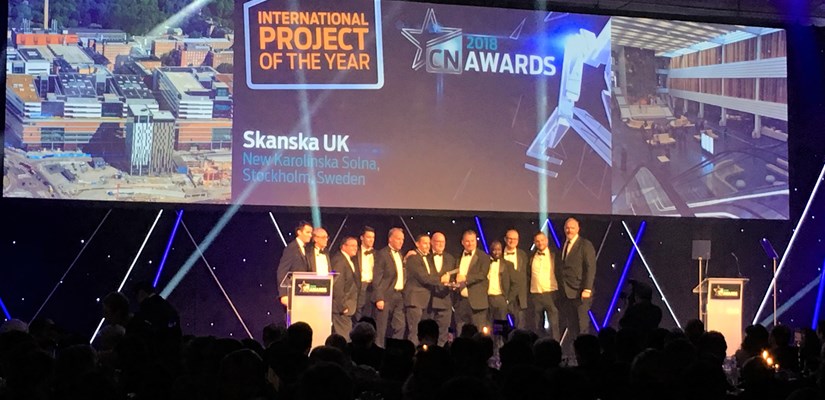 Skanska won in the International Project of the Year category for the New Karolinska Solna hospital in Stockholm, Sweden, with the A14 Integrated Delivery Team (IDT) picking up the award for Supply Chain Excellence.
The Crossrail C412 Bond Street Station team was highly commended in the Health, Safety and Wellbeing Excellence (project) category.
The LEED Gold certified NKS has a gross area of 330,000 sq m, comprising 8,000 rooms, 730 in-patient beds and 100 daycare rooms. At the peak of construction, Skanska employed more than 250 management staff overseeing an onsite workforce of 2,000.
On winning the award, the judges' commented: "The scale, complexity and the fact that Skanska was able to maintain its performance over a 10-year period are outstanding."
A14 Integrated Delivery Team
The A14 IDT, which is working on the £1.5bn Huntingdon to Cambridge upgrade, won after demonstrating comprehensive collaboration between contractor and client.
Led by Balfour Beatty, Costain and Skanska, designers Atkins and CH2M and client Highways England, the project also involves a huge number of other suppliers and is underpinned by the philosophy of, 'you're only as good as your supply chain'.
The judges' said: "This is a team that is really doing something different in dealing with big industry issues, showing a genuine commitment to driving behavioural change in the supply chain and removing conflict."
Highly commended
The Costain/Skanska JV Bond Street Station team came a close second to Interserve in the Health, Safety and Wellbeing Excellence (Project) category.
The judges commented on how the team managed to combine a winning company culture with an emphasis on design safety and efficiency, with initiatives ingrained within both companies as well as the supply chain.
Skanska was also shortlisted in the following categories:
Rising Star – Cameron Bell, A14 IDT
Health, Safety and Wellbeing Excellence (Company) – Anglian Water @OneAlliance
Health, Safety and Wellbeing Excellence (Project) – Costain Skanska JV, Crossrail C360 shafts and headhouses