Press release
17/09/2018 09:00 CET
A Skanska team working on a commercial office development project has won a BIG Biodiversity Challenge award for its green approach to construction site hoarding.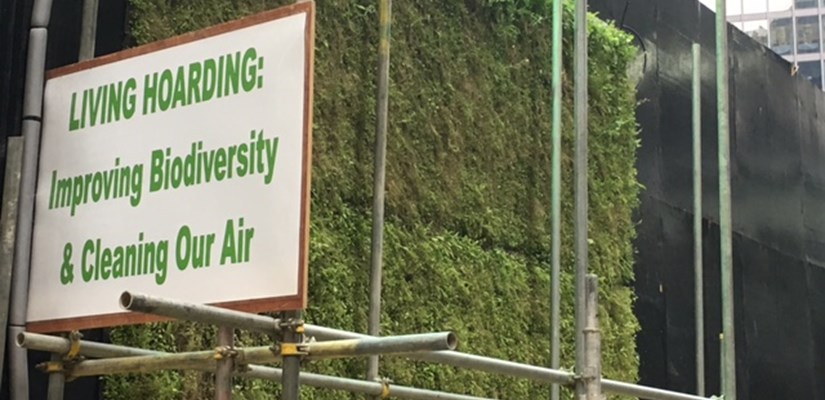 The project, in the City of London, has successfully piloted a lightweight temporary living wall system on its hoardings to demonstrate the positive contribution that construction can make to local areas.
Following an extended habitat survey, the site was considered to be of low ecological value due to the density of buildings and lack of vegetation.
Eleanor Stewart, Senior Environmental Adviser for Skanska, explained: "The site is in a highly populated area full of modern high-rise buildings with a mixture of designs and façades, surrounded by tarmac, pedestrian areas and roads.
"However, the project team was determined to have a positive environmental impact. They searched for opportunities and were delighted to trial a new mixed-seed lightweight temporary living wall system to help refine the product design and highlight any issues."
The team tested the product's ability to suppress construction dust and noise, increase worker wellbeing and improve biodiversity on site.
Over the 18 months that the hoarding was trialled, the team found that the plant communities were very healthy, flowering throughout the season; new species had arrived/expanded; and the vegetation developed to be thick enough to offer bird foraging opportunities.
The team also discovered at least 10 species of spiders, bees, wasps, hoverflies, butterflies, slugs, snails, ladybirds, moths and other insects. Goldfinches were observed to be feeding on the seeds provided by the plants on the top end of the wall and various other types of birds regularly stopped by.
"We were delighted with the results of the trial," said Eleanor. "Encouraging flora and fauna in areas where we are working is a positive outcome for the local community."