Press release
07/12/2018 11:27 CET
Our highways teams proved that green working can be achieved while saving time and money, when they scooped multiple environmental awards.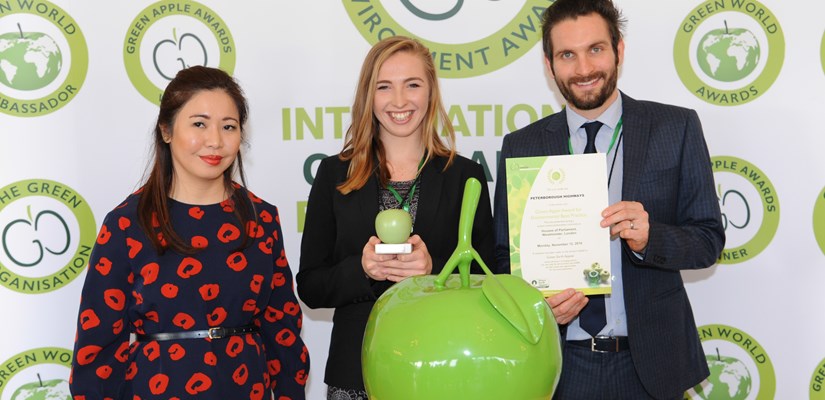 Teams working in Oxfordshire, Peterborough and Cambridgeshire won four Green Apple awards in recognition of environmental best practice delivered in collaboration with county council colleagues.
Cambridgeshire Highways won a gold award for using recycled materials as a road sub-base, reducing carbon by 33 per cent and saving nine per cent on costs and five days compared with the original contract programme.
Peterborough Highways also won a gold award for resurfacing roads with a low temperature asphalt, reducing carbon by 12 per cent. They also picked-up a bronze award for onsite coal tar recycling that saved time, reduced materials and prevented waste; saving more than 50 per cent on both costs and carbon.
In Oxfordshire, work to reconstruct 10km of the highway network using 20,000 tonnes of recycled materials also received a gold award. This resulted in staggering savings; £2m for Oxfordshire County Council, 300 tonnes of carbon by eliminating the need for new materials.
Adam Crossley, Skanska's Environment Director, said: "These programmes highlight that it's no longer a case of having to choose either green or cost-efficient services – using innovative techniques we can deliver both, along with faster programme delivery for our clients. Working with our customers to create solutions that lower carbon and cost is a key focus for us, and I'm delighted that these awards recognise green leadership, as it's vital the industry keeps a continued focus on sustainable solutions that deliver value for society."