Press release
04/04/2019 14:00 CET
Skanska's team working on the Outernet London re-development, held a topping out ceremony at the beginning of April.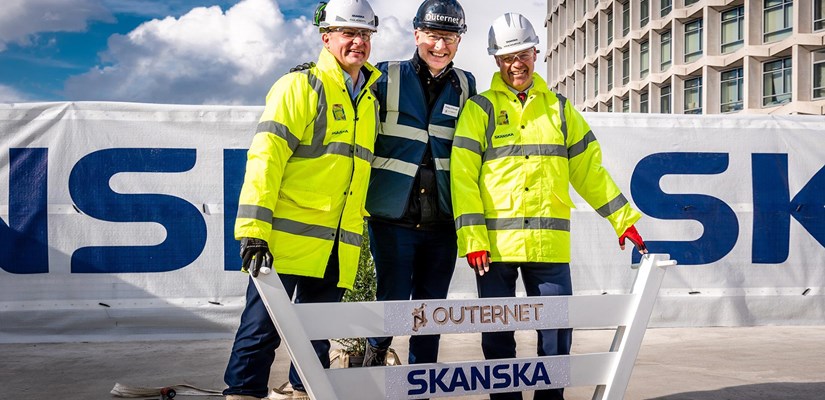 This crucial milestone was marked with a traditional ceremony, attended by members of the team, the customer Outernet London and members of the supply chain.
The topping out event was celebrated with a traditional Scandinavian 'flying of the fir' in which a fir tree was flown over the building by tower crane for good luck, as well as a final pouring of concrete, in a rooftop ceremony.
The finished scheme will include retail, office, hotel and dining facilities, while a striking public thoroughfare and events space will help make Outernet London a destination space.
An Urban Gallery will provide an interactive public space and include four-storey advertising screens.
The re-development will bring live music back to a corner of the capital that lost the iconic Astoria venue to Crossrail's Tottenham Court Road redevelopment.
A 2,000-capacity space suitable for music gigs and other events will be created underground, close to the Northern Line escalator box and the eastbound tunnel of the forthcoming Elizabeth Line.
An additional smaller 'Grass Roots' music venue will also be built in the basement underneath a 350-year old Blacksmiths forge known as the 'Smithy'. The entire 'Smithy' building was relocated in its entirety during construction to allow an enlarged basement to be built before being placed back into its original location.
Outernet London will be the first of several global projects planned, which aim to bring venues with live music hosting A-list talent, the latest in media technologies, as well as retail and dining spaces to cities around the world.
As well as overcoming extraordinary technical challenges, the team is preserving hundreds of years of history. The £142 million project is set to complete at the beginning of 2020.
Paul Roberts, Project Director, explained: "The team has worked tirelessly to overcome some significant challenges: the biggest was digging out a major basement close to a Crossrail tunnel, Tottenham Court Road Station escalators and Oxford Street.
"Since the contract began, we have built up a strong relationship with all the stakeholders and worked together to use our collective expertise and knowledge to deliver a complex project, which will bring live music back to a corner of the capital that is known as Tin Pan Alley."