Press release
11/07/2019 09:00 CET
Her Majesty The Queen visited Royal Papworth Hospital and enjoyed an extensive tour before performing the official opening.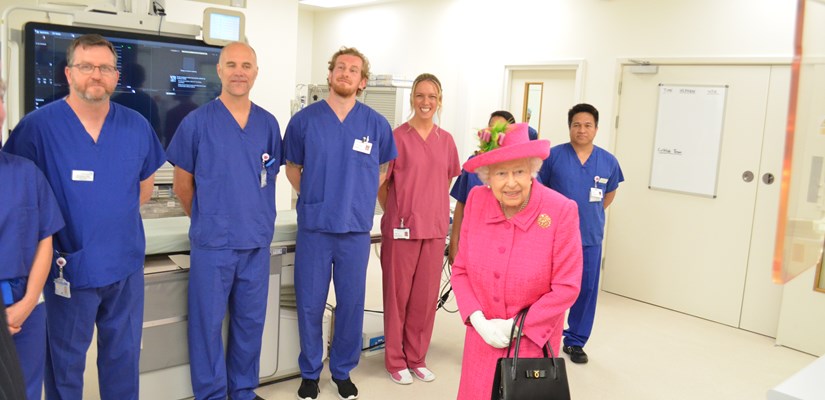 As part of the ceremony, on Tuesday 9 July, HM The Queen met staff and patients of the Royal Papworth Hospital NHS Foundation Trust. She also visited some of the start-of-the-art facilities created by Skanska, including a bronchoscopy suite, cath lab and the critical care unit – one of the UK's largest specialist intensive care units.
Accompanied by HRH Duchess of Gloucester, Patron of Royal Papworth Hospital; Stephen Posey, Chief Executive of Royal Papworth; John Wallwork, Chairman of Royal Papworth; and Julie Spence, HM Lord Lieutenant for Cambridgeshire, Her Majesty met medical teams and spoke to recent and former patients.
The hospital, which opened to patients on 1 May, has already treated around 10,000 outpatients and carried out more than 2,000 procedures.
Her Majesty unveiled a plaque at the end of the tour, which proudly stands inside the main atrium of the hospital.
She was then bid farewell by staff, including the Skanska facilities management site team, patients, members of the public and local schoolchildren.
Craig West, Operations Manager, said: "It has been a busy period ensuring everything was perfect for the royal visit. The team worked very hard, in collaboration with the trust, to ensure the experience was excellent for everyone. It's certainly an occasion we will all remember with pride."
The visit extends a tradition started 101 years ago by her grandmother, Queen Mary, back in 1918, when she made the first royal visit to Papworth.
Her Majesty's visit to the hospital was her first since it received the royal title in 2017.
Skanska will provide hard facilities management services for the trust for a 30-year period, until 2048.