Press release
09/08/2019 11:30 CET
The project given highest Honour at Considerate Constructors Scheme awards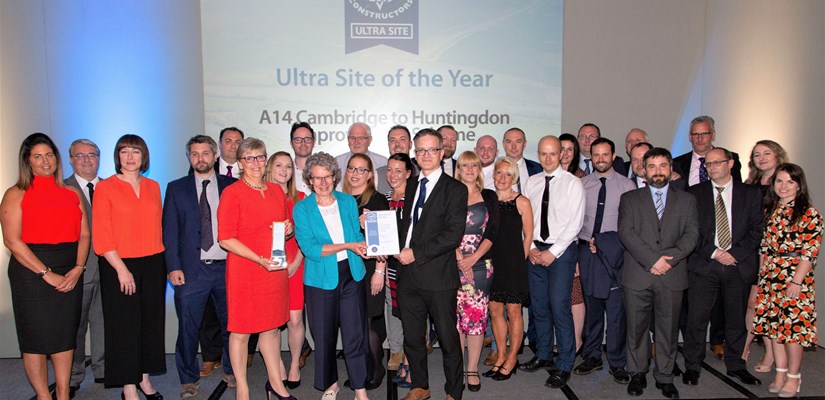 Members of the A14 Integrated Design Team (A14IDT), which Skanska is part of and its supply chain partners joined guests from the industry's best projects in London for the 2019 Considerate Constructors Scheme Ultra Site awards ceremony. The awards recognise projects which exemplify collaborative working at its best and realise the benefits of integration for their workforces, communities and the environment.
The project was described as 'spectacular' by the judges and as the team members present gathered on stage for the presentation. The team also won the Ultra Site of the Year Awards for Collaboration and Fairness, Inclusion and Respect.
The A14 Cambridge to Huntingdon Improvement Scheme is the first major infrastructure project to be recognised as an Ultra Site, and the only highways project with CCS Ultra Site status. It recognises the team's commitment to encourage its supply chain to meet the highest standards of the CCS scheme and strives to work innovatively.
Nick Whyment, Project Director Skanska said: "Achieving this status on the A14 IDT is a huge honour. It demonstrates the true integration of all partners working together to deliver operational excellence. The A14 team are at the pinnacle of collaboration and seeking the best practice and sharing with the rest of the construction industry."
Mark Berg, Project Director for A14 IDT Cambridge to Huntingdon improvement scheme said: "Being part of the CCS Ultra Site is important to the Integrated Delivery Team. Working with the Ultra Site, in particular working with our supply chain, allows us to push the boundaries, the capability and capacity of our supply chain."
While collecting the award, A14IDT Stakeholder Director Pam Hobson said: "What an amazing day! This award is the result of a genuine team effort and everyone on the project, including every department and company, should be justifiably proud."