Press release
09/09/2019 14:00 CET
Traditional Scandinavian ceremony celebrates the building reaching its full structural height.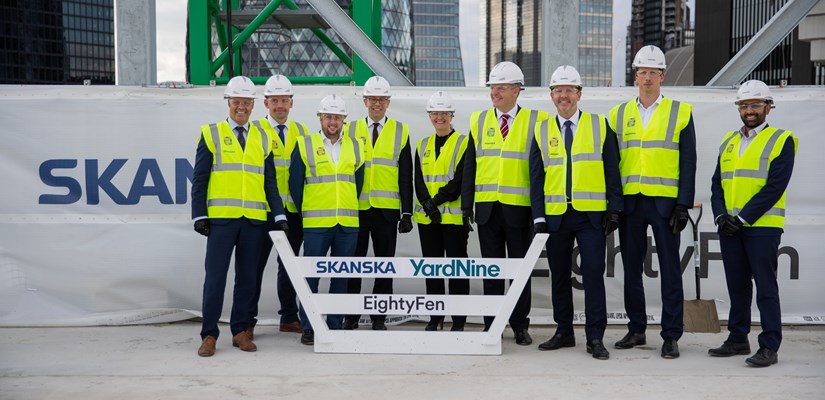 This crucial milestone of the 250,000sqft, 15-storey office development was marked with a topping out ceremony, attended by members of the professional team, supply chain and the developer YardNine.
The event included a traditional Scandinavian 'flying of the fir' in which a fir tree is flown over the building by tower crane for good luck, as well as a final pouring of concrete, in a rooftop ceremony.
The building is targeting the highest environmental standards to achieve both BREEAM excellent and Wired Score platinum ratings.
Ian Shinn, Project Director at Skanska, commented: "We are delighted to celebrate this significant milestone with the team. We are very excited about delivering this world-class building for YardNine and its investment partner. We have built up a strong relationship with everyone involved in this project so we can understand our customer's priorities and deliver a building that uses the latest technologies to protect the environment."
Maxwell Shand, Director of YardNine, said: "When complete, this building will offer stunning views across London from the roof-top spaces. From the light-filled floors to a multi-functional ground-floor experience with integrated cafés, restaurant and health facilities, EightyFen will set a new benchmark for office accommodation in the City of London."
The project is due to complete and welcome its first occupiers in June 2020, for more information visit Eightyfen.com.