Press release
16/01/2020 12:25 CET
Skanska has signed a deal with Highways England worth £143 million for the delivery of the M42 Junction 6 improvement scheme. The five-year project will see a comprehensive upgrade of Junction 6 of the M42 near Birmingham Airport, a strategically important scheme identified in the Government's Road Investment Strategy in 2014.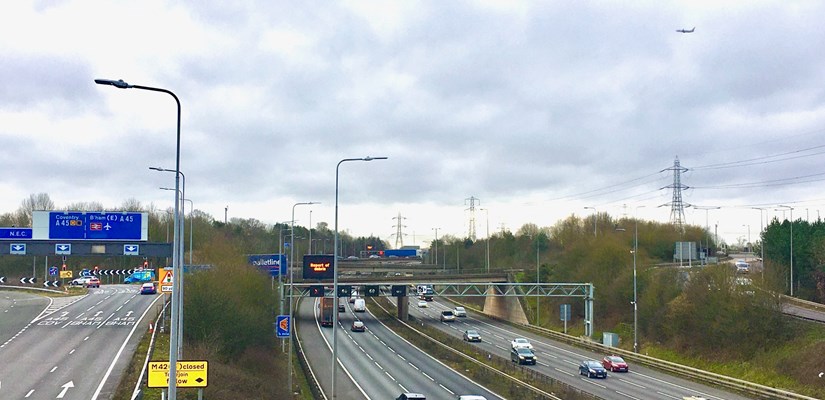 The five-year project will be led by Skanska, working in close collaboration with design partner Mott MacDonald and customer Highways England. Skanska secured the role as a result of its strong strategic alignment, particularly their ambition and efforts towards transitioning to an enterprise state and its portfolio delivery approach.
Skanska won the role through the Highways England Regional Delivery Partnership (RDP), for which it is a Delivery Integration Partner for the East of England and Midlands regions.  The project team will take projects from preliminary design stage through to handover.  Mott McDonald has already begun working on the project, with construction set to start in in 2020.
The objectives of the scheme are to ensure the safe and reliable operation of the road network, increase capacity at junction 6 and reduce congestion. This will improve access to key businesses and locations including Birmingham Airport, support economic growth in the area and improve access for cyclists, walkers, and other vulnerable users of the network.
Located to the north of Birmingham near Solihull, the scheme was highlighted in the government's 2014 Road Investment Strategy as an important junction lying in an area of dynamic growth. As well as the deal with Skanska, £101 million will be invested by Highways England to purchase land and carry out vital utilities work.
Launched by Highways England in 2018, the multi-billion-pound Regional Delivery Partnership framework contracts aim to provide more informed and predictable journey times through roadworks. The RDP framework was set up using a new industry leading procurement approach which incentivises companies to improve journeys on Highways England roads and uses the capability of a region to benefit that region.
Glennan Blackmore, Highways Director at Skanska, said:
"This is the first Regional Delivery Partnership contract we've entered into and we are very excited to be working with Highways England to deliver this key upgrade. Highways England have been developing plans to improve this link for a long time and we are delighted to be helping them realise their ambition, which we hope will benefit the public enormously.
"We are looking forward to delivering this project and ensuring the safe and reliable operation of the road network, along with supporting economic growth in the area for our customer and the public."
Steve Ellis, Roads Director and Skanska Account Leader, said:
"Mott MacDonald are proud to be a key part of the partnership with Skanska and Highways England and are enthusiastic about the opportunity this contract and the framework presents. We look forward to working in collaboration with the whole team to develop new ways of working through connecting thinking and a truly integrated approach. Beginning with the end in mind, we will lead the team initiative to realise the potential of the design phase to improve the safety and certainty of scheme delivery and operation."
Highways England senior project manager, Jonathan Pizzey, said: "This is a major upgrade to improve the M42 junction 6 near Solihull because the junction has almost reached capacity, causing severe congestion and delays across the network. Highways England's proposed improvement scheme would provide a comprehensive upgrade of the junction near Birmingham Airport, allowing better movement of traffic on and off the A45, supporting access to the airport and preparing capacity for the new High Speed Two station."