Press release
12/02/2020 11:00 CET
Innovative solution futureproofs Norwich water supply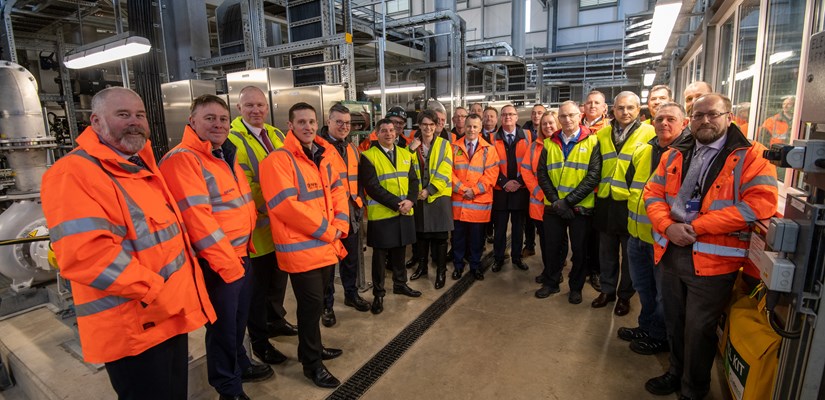 Skanska has completed upgrade works to the largest membrane filtration system in Europe, at Anglian Water's Heigham treatment facility.
The facility upgrade at Heigham Water Treatment Works was designed and built by Skanska working as part of Anglian Water's @one Alliance, using smart processes and materials to reduce carbon in construction by 62 per cent against the original design target. The new works house a state-of-the-art ultrafiltration system guaranteeing a sustainable future supply of drinking water for the growing population of Norwich, while ensuring local ecology is protected.
With the population growing at pace in Norwich, Anglian Water needed to ensure an increased supply could be drawn from the River Wensum. Historically, water was taken from the Costessey Pits area, which was used for natural water storage where river sediment would settle out of the supply before it's pumped to Heigham. However, this stretch of the river; home to water voles, otters, white cray fish, eels and rare flowers, has now been designated as a Special Area of Conservation. The challenge, therefore, was to provide a filtration solution capable of processing water from further downstream, where sediment levels are higher – to ensure supply can be increased in line with future demand, without threatening local ecology.
The solution processes 57 million litres of water each day at a rate of 668 litres per second, through 7.5 million hollow fibre ultrafiltration submerged membranes. These tackle sediment by drawing water through tubes with a partially permeable membrane – capable of filtering at a micro-biological scale, to deliver consistently high-quality water. Up to 96 per cent of wastewater generated in the process is also recovered through use of lamellas – settling tanks enabling water recirculation.
Paul Naylor, Regional Supply Manager for Anglian Water said: "We're planning decades into the future with this investment. This technology is vital to keep pace with the growing city's needs. Norfolk is expected to be home to more than one million people by 2034 and many of those people will be coming to live and work in Norwich. This combined with being in one of the driest counties in the UK means that significant investment is needed to ensure we keep taps running and continue to power the economy. As importantly, this scheme will make sure the environment does not suffer because of future growth and is ready to cope with any increased demand on local water resources too."
The project was successfully delivered while the site remained live to ensure there was no disruption to Norwich's water supply and it also achieved significant carbon reductions by refurbishing Heigham's original treatment buildings, reusing many of the existing filter tanks and using offsite manufacture where new construction was required. Eel screens – in place to capture any eels at the inlet before safely releasing them – were also built offsite and then craned in, saving carbon, cost and time in the programme.
Gregor Craig, Skanska UK's President and CEO said: "From the use of virtual reality and digital modelling in the design process, to smart materials to reduce carbon and the selection of cutting-edge membrane filters, the project is teeming with innovation. We are excited with the result which will ensure people of this growing city are guaranteed an excellent quality water supply each time they turn the tap for decades to come.
"I'm proud that Heigham is a great example of the sustainable solutions that our long-term and collaborative partnership with Anglian Water is able to deliver. Our innovative approach at Skanska enables us to provide better and more effective projects for our customers and their communities, allowing us to build for a better society."