Press release
12/02/2020 14:00 CET
At our 80 Fenchurch Street project yesterday, Managing Director, Steve Holbrook, and a senior representative of the Armed Forces re-signed the Covenant.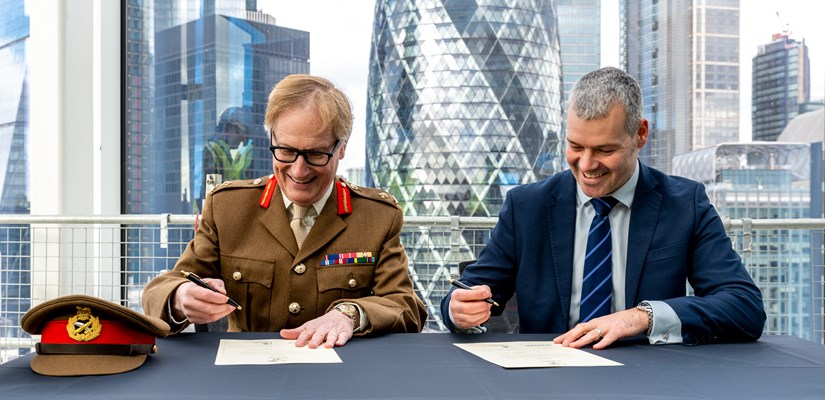 Skanska originally signed the Covenant in 2015 and yesterday's event means we have now committed to over a decade's support for employees who are reservists, veterans and their families. Signing the covenant demonstrates we are committed to ensuring no member of the British Armed Forces' community should face disadvantage compared to any other citizen. In some cases, this can mean offering extra support to those who have been injured or bereaved in service.
By signing the covenant Skanska has agreed to support armed forces personnel and their dependants by:
• Promoting our support of the Covenant through our day-to-day work
• Demonstrating the benefits of employing ex-armed forces people
• Supporting armed forces families through our work
Steve Holbrook, Managing Director, said: "At Skanska, we are really proud of our commitment to the Armed Forces Covenant and the responsibility that it gives us to make sure we create a supportive environment in which veterans and reservists can thrive.
"We are even more proud of the huge contribution our reservists, veterans and their families make to our business and the commitment they have demonstrated to the country.
"By signing this Covenant, we want to make clear our unwavering support for the forces community, as well as our commitment to making our environment one that welcomes them and enables them to flourish."
As a sign of its commitment to the military community, Skanska received a Gold Defence Employer Recognition Scheme in 2017.
Since Skanska last signed the covenant, it has been actively working with the armed forces and associated charities by helping those leaving the forces to support their future career paths.
Major General, Simon Brooks-Ward, Assistant Chief of Defence Staff R&C said: "It is really important that we receive the support of organisations like Skanska to help our regular personnel when they decide to move on from the armed forces and embark on a new career. It means they will receive the vital support they need to transition from military to civilian life, which depending on their circumstances, can prove to be challenging. Skanska's offer of up to fifteen days paid leave per year for its serving reservists, is in excess of current best practice and is making an important contribution to supporting our reservists, and the part they play in assuring defence capability.
"Ex-military personnel are highly trained and skilled. They are able to adapt to a variety of roles bringing a wealth of knowledge and expertise to any organisation, particularly in areas such as engineering, IT and health and safety to name but a few."
To find out more about a career with us, please click here.