Press release
24/07/2020 10:00 CET
Skanska's The Knightsbridge Estate project team in London has been using Building Information Modelling (BIM) and a suite of emerging digital tools to help reduce risk, improve customer engagement and communication, provide greater cost certainty and drive efficiency.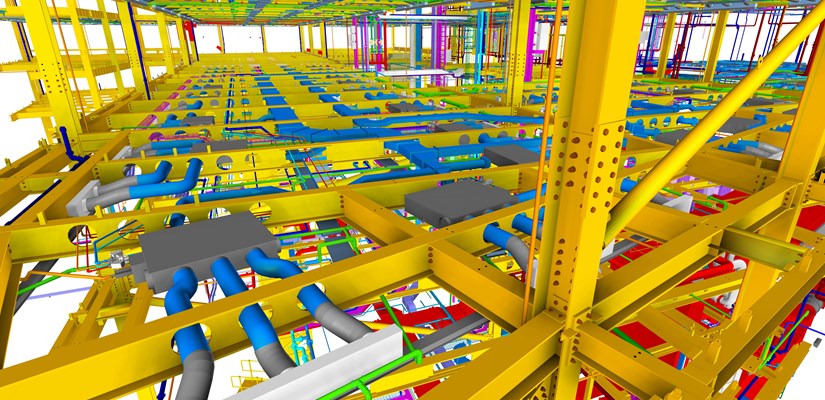 Early adoption pays off
The project team introduced digital tools very early on. Design Manager Colin Fowler explained: "We decided to bring in a 3D CAD bureau during the PCSA (pre-contract services agreement) period, to co-ordinate the mechanical, electrical and public health (MEP) elements of the building. Being able to thoroughly scrutinise and coordinate these elements well ahead of construction meant that we had more certainty around cost, removed a significant amount of risk and kept the programme on schedule.
"To record construction progress throughout the project's lifecycle, the team used 360° photography. Each image captures information equivalent to that from 13 traditional photographs and takes less than a second to take, significantly reducing time spent on record keeping.
This technology is also proving invaluable during the COVID-19 pandemic, allowing those working remotely to walk the site virtually from the safety of their homes. The 360° photographs have been shared with the customer to substantiate the works completed, ensuring cash flow is unhindered through these challenging times.
Digital construction field tools have helped the site team streamline their administrative processes. The construction managers can perform many of their daily tasks, including site diaries, health and safety inspections and issuing permits, using mobile tablets and electronic pens, removing the need to go into the office.
John Birch, Skanska's Project Director at The Knightsbridge Estate, commented: "From its inception, this project has incorporated a number of extremely complex elements. These include an Underground line and station, a conservation area and a large retained façade. To overcome these challenges, everybody involved embraced digital technology, including the adoption of BIM to create and share key information about the project. This has helped us to communicate exceptionally well and avoid delays to the project's programme.
"With nearly 15,000 documents being used, it is vital that the management of this information is clearly defined, especially in the design process. Using digital technology at an early stage enabled detailed planning ahead of construction, removing a huge portion of risk. This innovative approach is helping us to deliver a more efficient project for our customer."
A bespoke digital solution
The digital experts in the Building team developed a bespoke app for The Knightsbridge Estate project that brings together existing technology and new digital tools with a 4D digital overlay. Having a 4D visualisation and sequencing of the complex sectional handovers in the programme enabled all parties to see what is required, and how and when it needs to be delivered.
The app brings together data from planning and design documentation and presents it in a way that is user-friendly to enable a consistent level of understanding. It provides multi-zone work plans and a pictorial storyboard that illustrates the work and related timeframes. The app includes fully interactive floor plans, so data about each room can be accessed digitally by clicking on a location in the 4D model.
Head of BIM & Digital Engineering, Neil Donaghy, said: "To build these apps, we use Unity gaming software. It allows us to bring data and graphics together to present the information visually, in a way that is clearer for all users. Presenting information in this way is really helpful for customers, especially during the work-winning process."
He added: "Our team has a range of digital tools that we can draw on to meet the requirements of each project. Our aim is to deliver safer, greener and more efficient projects for our customers, and we are constantly looking at new tools and ways of improving our processes. This app provides a blueprint for presenting this digital suite in the most accessible way."
About the Knightsbridge Estate project
The Knightsbridge Estate project is a mixed-use scheme for The Olayan Group with a construction contract worth £150 million. The completed project will create retail and office space, 33 residential units and a new rooftop restaurant totalling 340,000sqft (31,600sqm), as well as creating a new entrance to Knightsbridge London Underground station on Brompton Road and step-free access to the station, for the first time, from Hoopers Court. Construction began in April 2018, with completion due mid-year 2021.
NOTE TO EDITORS
ABOUT THE KNIGHTSBRIDGE ESTATE
Flanked by Harrods and Harvey Nichols, and featuring one of London's most impressive runs of Dutch gable elevations, The Knightsbridge Estate stretches over 3.5 acres in the heart of The Royal Borough of Kensington & Chelsea. The section of the Estate under development occupies 194,000 sq foot and is located at the northern end of the Estate at the junction of Brompton Road and Sloane Street. On completion it will provide unparalleled retail units at basement, ground and first floor levels, state-of the-art office space, 33 luxurious residential apartments and, for the first time, spectacular roof top dining. Improvements to the public realm and public transport access and infrastructure will ensure The Knightsbridge Estate meets the needs of new London's urban life in every way.
The Knightsbridge Estate is a is a rare collection of unique properties, some dating to the late 1800's, all sitting within a conservation area. Having been in a state of steady decline for many years, The Knightsbridge Estate was purchased by The Olayan Group in 2010. Working closely in partnership with asset manager and developer Chelsfield, The Olayan Group has rationalised and modernised a third of the Estate, remodelling shop fronts, widening its pavements and upgrading the retail offer.
ABOUT THE OLAYAN GROUP
Founded in 1947, The Olayan Group is a private, multinational enterprise with an actively managed portfolio of international investments and diverse commercial and industrial operation in the Middle East. The Group's main offices are in Athens, Riyadh, New York, and London, where the Group has had an active presence for nearly 45 years. Investing both directly and in partnership, the Group has a diverse real estate portfolio that includes commercial, residential, industrial and mixed-use properties.
In addition to The Knightsbridge Estate, the Group's real estate portfolio includes other well-known historic properties, notably the Paris Portfolio in that city's prestigious 8th Arrondissement, the Ritz Hotel of Madrid, and 550 Madison in New York.
ABOUT CHELSFIELD
The Chelsfield group is an international real estate business focused on asset management, development, and investment in London, Paris, New York, Hong Kong, Shanghai, Tokyo, Singapore and other key European and Asian gateway cities. The group has been investing and developing the real estate for over 30 years and currently has £4.1bn of assets under management. Renowned for its hand-on expertise, and with its long and successful track record of innovation and value generation, it has an ability to unlock projects that have high barriers to entry, and to keep ahead of systematic changes in real estate practice and procedure.