Press release
27/08/2020 13:17 CET
Skanska, GKR Scaffolding, Kier, Mace, Morgan Sindall, and Balfour Beatty today publish a new COVID-19 industry research report, conducted by Loughborough University: "COVID-19 and construction: Early lessons for a new normal?".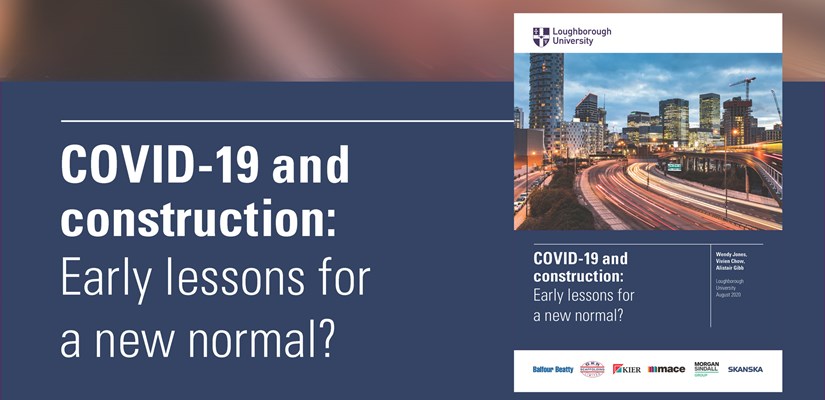 The independent report, based on research conducted by Loughborough University experts into six UK major construction and infrastructure schemes, explores the industry's health and safety response to the COVID-19 pandemic and potential medium to long -term benefits arising from extending and embedding these new working practices.
The report demonstrates how the changes made during the pandemic reflect a phenomenal effort by site staff, frontline workers and occupational health and safety professionals to adapt safely and efficiently to the rapidly evolving situation.
The research identified that, despite overall site productivity being negatively impacted due to social distancing requirements, individual and team effectiveness and productivity had increased for a number of reasons including better and more detailed task planning, reduced waiting time between tasks, increased space and therefore less "overlap" of trades, a boost in the use of technological solutions, more responsibility for individuals and less meetings.

The research also explored the effects of working from home and found that, notwithstanding the cost, flexibility and productivity benefits, making this a permanent solution could have a negative impact on employees with a rise in social isolation and uncertainty of expectations.
Whilst new approaches have been adopted in response to COVID-19, the report presents several recommendations that should be taken before these approaches can become truly embedded into the industry's ways of working. In doing so, the industry can make substantial, lasting and transformative changes to working practices, productivity and efficiency.
Dylan Roberts, Skanska's Health, Safety and Wellbeing Director, said:
"Following our work with the Construction Leadership Council on the industry-wide 'Site Operating Procedures', I felt that we should obtain an independent review of our perception that workforce engagement and planning of work activities had improved. This research is an external verification of the great work done by site staff and provides a positive view of workforce productivity.
"No one could have predicted the impact this pandemic would have on our onsite and remote work delivery, while maintaining optimum safety guidelines and procedures. COVID-19 has shown our industry to be at its most collaborative and innovative when it's been most needed."
Russell Adfield, The Health and Safety Executive's Head of Construction Sector and Policy, said: "This industry-led report highlights the significance of having Construction, Design and Management regulations (CDM 2015) – to ensure effective communication, co-operation and co-ordination of workplace practices to both protect workers from risk and allow projects to advance, even in the most difficult of times.
"Involving workers and the supply chain in planning and designing the work is an essential component in developing trust and achieving positive behaviour which will ensure the industry continues to play a critical role in stimulating the economy as we respond to COVID-19.
"With health, safety and wellbeing at the heart of what all companies do, it is clear that the learnings from COVID-19 should extend beyond the lockdown period and shape the whole industry for the better."
ENDS
Download