Press release
22/09/2020 09:26 CET
Skanska has delivered the UK's first Dutch-style roundabout with a layout which prioritises pedestrians and cyclists over motorists, promoting green travel.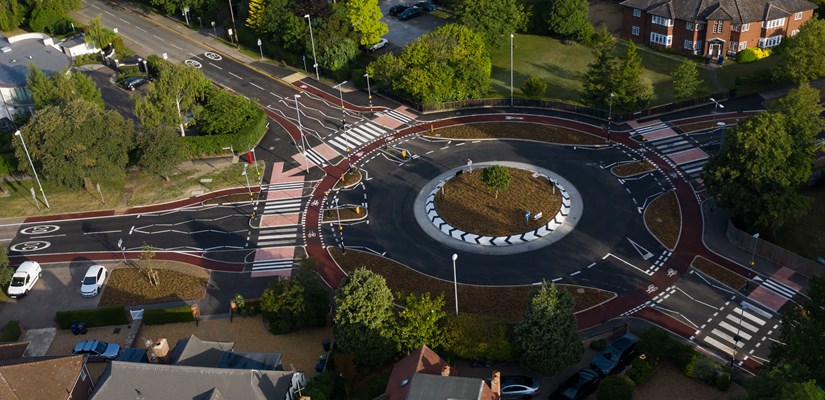 The works to redesign the existing roundabout at the junction of Queen Edith's Way and Fendon Road in Cambridge to a Dutch-style model were delivered by Skanska on behalf of Cambridgeshire County Council. The local authority awarded the project to the contractor in summer 2019 and it took just under 11 months for the roundabout to be reopened in its new design, with the final phase of the works delivered under the coronavirus pandemic restrictions.
Improvements to the roundabout follow public consultations which highlighted that the old roundabout layout was perceived to be dangerous to cycle around, with local residents reporting feeling unsafe when walking in the area due to a lack of pedestrian crossings. The roundabout provides an important commuter route for Addenbrooke's Hospital and the Cambridge Biomedical Campus and is used widely by cyclists as well as school children, students and shoppers.
The geometry of the new roundabout is tighter than the previous layout and promotes slower vehicle speeds, with much more space for physical separation between the pedestrians, cyclists and cars, and a central over-run area allowing larger vehicles to manoeuvre around the roundabout.
The new layout has an outer ring for cyclists to give them equal priority with pedestrians over oncoming vehicles, with parallel pedestrian crossings on each of the four arms of the roundabout. These zebra crossings also extend over the cycle lanes. Motorists must give way to pedestrians and cyclists when joining and leaving the roundabout.
Business Director John Birkenhead commented: "The roundabout's redesign, project management and delivery was all done by our teams working together with the client and main contractor Durman Stearn to bring this innovative model of roundabouts to the UK. This scheme is a fantastic example of our expertise and drive for innovation to make Cambridgeshire's roads safer for all users while actively promoting greener travel."
Cllr Ian Bates, Chairman of the Cambridgeshire County Council's Highways and Transport Committee said: "I am delighted that the roundabout is open. It will greatly improve safety at this busy junction, and will hopefully encourage more people to walk and cycle to work or college. I am particularly pleased that we have installed zebra crossings to make it easier for vulnerable people to use the roads leading up to the new roundabout."