Press release
28/09/2020 14:52 CET
Skanska has won two contracts to expand Knowle DGE Academy and Perry Court E-Act Academy, in Bristol through the Bristol Local Education Partnership (LEP) on behalf of Bristol City Council.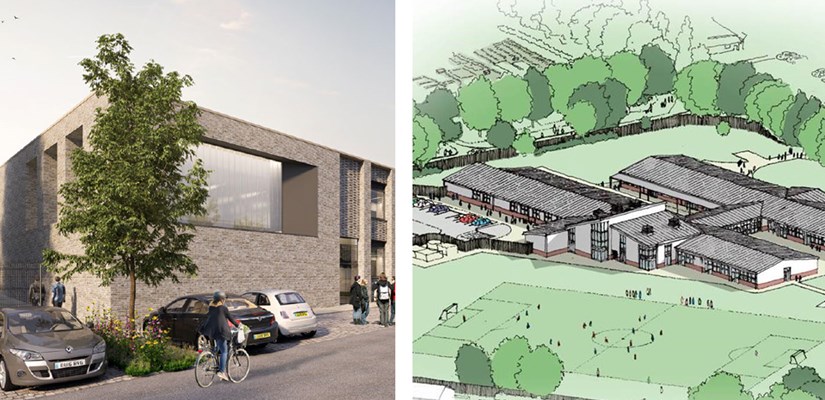 At Knowle DGE Academy Skanska's team will build a special educational needs centre on the grounds of the former Florence Brown School, which was demolished by the team a decade ago and replaced by Knowle DGE Academy, built by Skanska. It will offer traditional and vocational courses for up to 40 students and include two independent living units to give students the opportunity to develop essential life skills. Work will begin at the end of September, with completion a year later and is worth £7 million.
As a leader in sustainability, the team is focusing on using low carbon techniques and will use a 'fabric first' principals on this project. This technique maximises the performance of components and materials that make up the fabric of the building. It helps to improve the energy efficiency, as well as reducing the costs of running the building once it is occupied. In addition to this, the building will use the academy's existing bio-mass boilers and the team is targeting BREEAM 'Very Good'.
At Perry Court E-Act Academy the team will begin work in October and hand over the facilities in May 2022, it is worth £9.3 million. The new academy, designed by DKA Architects, will provide 45 nursery and 630 primary places.
It is being constructed on the existing academy's playing field, so the team will draw on their extensive knowledge of working alongside pupils and staff to ensure the facilities remain operational at all times.
The team will use low carbon technology to target BREEAM 'Very Good'. Photovoltaic panels will be installed on the roof to supply electricity and the building has been designed to use natural ventilation. When work is finished, pupils will move out of their existing facilities and transfer across to the new building. After this, the team will demolish the existing academy and create the new playing fields.
Councillor Anna Keen, Cabinet Lead for Education and Skills, said: "We want to ensure every child in Bristol has the opportunity to learn and develop important life skills for their future.

"Together with partners, we're working hard to meet the demand for education places now, and in the future. I'm delighted we can move forward with our plans to expand SEN facilities at Knowle DGE Academy for children and young people with special educational needs, as well as increasing pupil places at Perry Court E-Act Academy for nursery and primary aged children."
John Brennan, Regional Director, said: "The team worked tirelessly during lockdown to get these contracts signed and it is a great achievement for them. It shows their determination to work with our customer to deliver important projects that support society and the communities where we work."