Press release
11/11/2020 09:00 CET
BoKlok UK Ltd, the sustainable, quality, and low-cost home provider jointly owned by Skanska and IKEA, receives official welcome to NHBC Accepts.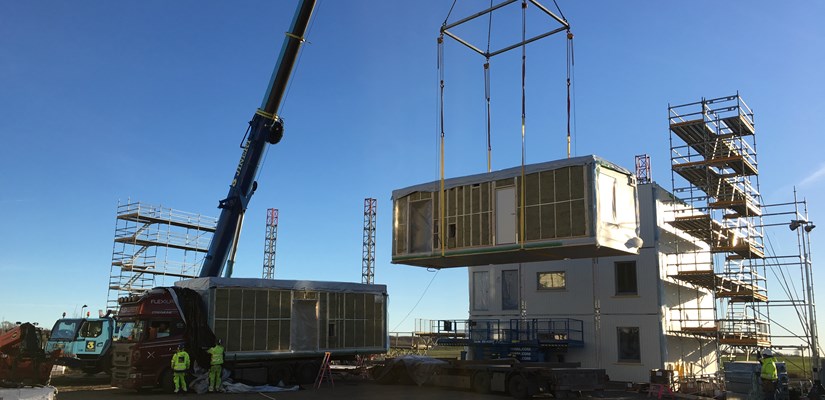 Launched this summer, the NHBC warranty and insurance provider for new homes in the UK, granted approval for BoKlok to 'NHBC Accepts' — an all-inclusive, end-to-end service that helps to build confidence in innovative construction and also enables MMC systems to be fast-tracked for NHBC warranty.
BoKlok is jointly owned by Skanska and IKEA, originated in the Nordics and has now built more than 12,000 homes throughout Sweden, Finland and Norway. It launched its UK business early last year and is on course to build over 400 homes throughout the South West of England.
BoKlok homes are completedoff-site in a safe and dry environment using a smart and industrialised process. This enables high quality, low and predictable costs, and minimum waste. The homes are then transported to the construction site for assembly with high quality IKEA products fitted throughout.
The completed homes are manufactured using BoKlok's Flex UK volumetric timber frame system. As BoKlok uses wood as its primary source material, carbon emissions are lower in comparison to the average amount of a newly built apartment or house. Other environmentally friendly measures are included throughout all housing developments, such as community air source heat pumps and water saving methods.
Noel Sheehan, BoKlok Housing Delivery Director said, "We are very pleased to have been given a seal of approval for NHBC Accepts.
"BoKlok use quality materials and build with well-proven methods to ensure sustainable homes. We hope that this additional accreditation will provide further confidence in our home development to our customers and the wider industry."
NHBC's, Innovation Manager, Richard Lankshear said: "Following a thorough review process we are delighted to welcome BoKlok to NHBC Accepts.
"An NHBC Accepts certificate is a way of demonstrating that innovative products or systems have already been reviewed by NHBC thus reducing the risk of delays on site. NHBC Accepts will play a critical role in ensuring developers, manufacturers, lenders and consumers have faith and confidence in MMC quality as the industry delivers more innovative new homes for the country."