Press release
03/12/2020 17:50 CET
Skanska UK has become one of the first organisations globally to achieve a new Kitemark for Innovation Management from BSI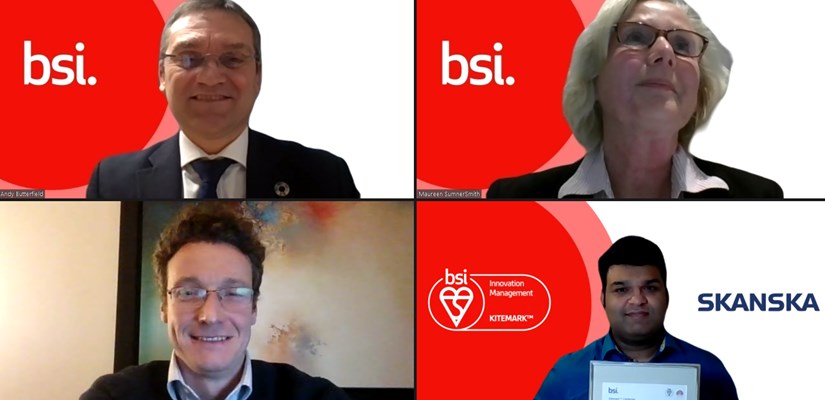 Based on the standard ISO 56002 Innovation management – Innovation management system, the new BSI Kitemark certification has been designed to help organisations improve their innovation management performance and demonstrate the value and impact of their innovation outcomes to internal stakeholders and customers.
Skanska was one of the first organisations to undergo the pilot assessment for the certification, which evaluated the implementation and effectiveness of its innovation management system. While the pilot involved leading organisations delivering services across the asset lifecycle for the built environment, the certification is relevant for any organisation that wants its innovation management system to be benchmarked through an independent certification assessment to demonstrate its impact.
Felipe Manzatucci, Digitalisation Director for Skanska UK said: "We are delighted to be one of the first companies globally to achieve the new BSI Kitemark for innovation.
"This demonstrates our commitment to driving innovative solutions that add value and deliver better outcomes for our customers. It also provides a structured framework for innovation going forward, enabling Skanska and its customers to benefit from the great ideas identified throughout our business."
Andy Butterfield, Managing Director of Built Environment at BSI commented: "Many companies are developing or have developed their approach to innovation; however up until now there has been no tangible way of benchmarking an organisation's innovation capabilities. In response to industry, we've designed this Kitemark certification scheme to help businesses measure the impact, value and Return on Investment (ROI) of their innovation programme to inspire trust with their stakeholders and ensure resilience. Crucially, it will also enable innovative organisations across the industry to collaborate on critical national infrastructure projects.
"Huge congratulations to Skanska for their efforts in achieving this – and being one of the first organisations to do so globally."
The certificate was presented at a virtual Kitemark launch event on Wednesday 2 December, which formed part of the BSI's annual global Built Environment Congress.